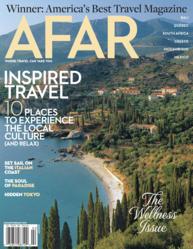 Travel powers change - I know from experience - and not by lists alone does one identify and decide where and how to spend one's time on the road. - Betty Jo Currie, Currie & Co. Travels Unlimited
San Francisco, CA (PRWEB) January 16, 2013
Having struck a chord with experiential travelers around the world as an exceptional collaborative travel guide, AFAR has added a new resource to its arsenal with the AFAR Travel Advisory Council, a select group of travel experts who can now directly connect AFAR travelers with the trips they've sourced, researched, dreamed about – and are now ready to take.
As more travelers are looking for deeper, authentic, and more meaningful experiences when they travel, they have increasingly engaged with AFAR's passionate, well-informed community for valuable insights and suggestions about how to get beneath the surface of a place.
The AFAR Travel Advisory Council adds another layer of travel leverage to the mix, offering valuable resources and unparalleled access for AFAR editors and their audience as well as providing the benefit of industry expertise and insights to AFAR marketing partners.
"We're so excited to have this group of knowledgeable, passionate, plugged-in experiential travel experts join the AFAR team," says AFAR International Travel Director John Galante. "With the AFAR Travel Advisory Council on board we can now offer AFAR travelers the full gamut of travel planning – from dream to action."
"I feel I've 'found my people' in this collaboration with Afar and the audience they serve," says Betty Jo Currie of Currie & Co. Travels Unlimited in Atlanta. "Travel powers change - I know from experience - and not by lists alone does one identify and decide where and how to spend one's time on the road."
Members of the AFAR Travel Advisory Council to date:
Betty Jo Currie, Currie & Co Travels Unlimited, Atlanta, GA
Malaka Hilton, Admiral Travel International/AuthentEscapes, Sarasota, FL
Susan Sparks, Brownell Travel, Aspen, CO
Michelle Rosen, Protravel International, Los Angeles, CA
Shelby Donley, Camelback Odyssey Travel, Phoenix, AZ
John Clifford, International Travel Management, San Diego, CA
Lauren Maggard, Jet Set World Travel, Chicago, IL
Jason C. Miller, The Accomplished Traveler, New York, NY
Cari Gray, Gray & Co., Toronto, Canada
Anne Halsey-Smith, Gayle Gilles Travel, La Jolla, CA
Josette Carrizzo, Trips, Away Travel, Cresskill, NJ
William Kiburz, Coronet Travel, St. Louis, MO
ABOUT AFAR MEDIA
AFAR is the multi-platform travel brand that inspires and guides those who travel the world to connect with its people, experience their cultures, and understand their perspectives. Headquartered in San Francisco, with an office in New York City, the company launched in 2009. Its platforms include the award-winning AFAR magazine, AFAR.com, the AFAR mobile App, the non profit foundation Learning AFAR; and immersive travel series AFAR Experiences.