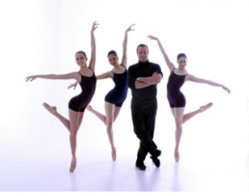 I give my dancers the opportunity to learn from a variety of sources.
Newtown, PA (PRWEB) January 17, 2013
Christopher Fleming is a freelance choreographer and former NYCB dancer who has traveled the world imparting his artistic prowess on dancers and audiences alike.
His many impressive credits include:
Award-winning competition choreography for:

Youth America Grand Prix
Grand Prix du Cirque, Moscow Competition
New York International Ballet Competition
USA IBC Competitor Evaluation Program
Professor of dance at Goucher College
Former member of the New York City Ballet
Fellowship recipient from the National Choreographic Institute
Artistic Director of Bay Ballet Theatre in Tampa, Florida
Assistant Director and Resident Choreographer for The Rock School
Critically acclaimed choreographer of solos and pas de deux for dancers competing in New York, Paris, Havana, Tokyo, Moscow, and Helsinki
And much more!
At 4:45 p.m. on Saturday, December 15th, he came to DSDW in Newtown, PA, and got those dancers moving. They enjoyed two hours of inspiring dance numbers from classic dancer and one of New York's most talented choreographers, Christopher Fleming.
About the Studio
When it comes to Bucks County dance studio instruction, there's no better mentor than Ms. Debra Sparks. Her high standards and nurturing approach produces the finest of dancers.
"I treat my dancers with dignity and respect but command a high level of performance. Master Classes help round out the instruction so they are well prepared for Broadway and the real world of dance."
In November, Debra Sparks Dance Works held a Master Class with Valerie Salgado, assistant choreographer for the NBC hit series "Smash" produced by Steven Spielberg. WOW! What an exciting evening of non-stop dance at DSDW.
This event was not only open to Debra Sparks Dance Works' dancers but anyone interested in learning from one of New York's great choreographers. For information, including price, and to register for future Master Classes at the studio, please contact the office. Act quickly, spaces fill quickly.
Check out the DSDW dance school video!
In addition to Master Classes, Debra Sparks Dance Works offers year-round dance classes, focusing on classical ballet as the primary foundation of training. Classes offered for students aged 3 to adult include:

Acro
Ballet—Classical
Ballet—Contemporary
Ballet—Pointe
Glee Club
Hip Hop
Jazz
Jazz—Competitive
Jazz—Funk
Jump & Turn
Lyrical
Modern
Musical Theatre
Pilates
Tap
Zumba
For more information about Debra Sparks, the DSDW studio, master classes, Newtown, Bucks County dance classes, or for answers to general questions, please call the studio at (215) 579-5678.
Or visit the company's website.
Press release writing by WebSiteText, LLC