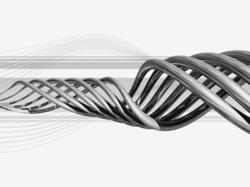 Bergen County, NJ (PRWEB) January 16, 2013
Agreenability today announced it has completed development of its much-anticipated TWISTER™ heat exchanger for residential and commercial geothermal heating and cooling applications. TWISTER™ is a patent-pending system representing a new vertical bore heat exchanger technology and which allows the simultaneous installation of four loops in a single vertical bore for greater efficiency and lower cost. Agreenability is a "green" company headquartered at the Business Accelerator at Bergen Community College in New Jersey.
"This is a significant improvement for geothermal heat pumps," said Robert Jensen, TWISTER's innovator and Agreenability President/CEO. "Geothermal heat pumps are eco-friendly and use ground temperature to heat and cool buildings. Through the completion of this work, contractors and well drillers, initially in New Jersey and surrounding markets, can reduce the cost of installing a geothermal loop field by 20% and cut by 30% the amount of drilling required. Additional reductions are possible depending upon geology and design.
"TWISTER™ uses standard methods for installation," Jensen added. "So there are no complications surrounding warranties, state/association approvals, or learning new installation techniques."
Technical information:
Development of TWISTER™ was conducted over 2 ½ years. Studies were done in an in-situ borehole test to evaluate and compare the thermal responses of the TWISTER design and a standard 1¼" HDPE single loop well completion.
TWISTER™ uses ¾" ASTM D3035/D3350 Cell Classification 445574C SDR 11 or 13.5 HDPE (IGSHPA Requirement) pipe spirally wound around a central 2" pipe used to guide the Tremie pipe. Supplied on coils or reels, with factory prepared u-fittings, installation is quick and easy.
Agreenability is seeking qualified design/installation companies to participate in its Preferred Partnering program. For those interested in becoming early adopters, partners will enjoy select status, special pricing, and gain hands-on experience.
About Agreenability
Agreenability is headquartered at the The Business Accelerator at Bergen Community College in New Jersey. It was founded by Rob Jensen, a successful engineering entrepreneur with extensive experience in profile extrusion, injection molding and other forms of plastics fabrication. Agreenability focuses on the development of ground loop heat exchanger concepts for the geothermal heat pump industry. For more information, visit Agreenability at http://www.agreenability.com, Info(at)agreenability(dot)com, or via phone at 845-536-0264.
# # #