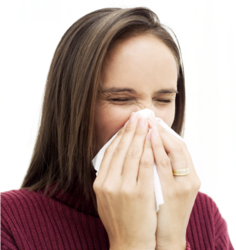 Young children, people over sixty-five, pregnant women, and those with underlying medical conditions are urged to take simple, additional steps to remove or kill contaminated air before they breathe it in.
Centerville, MA (PRWEB) January 16, 2013
There could be good news for those living in the 47 states that are reporting widespread flu activity. One Massachusetts company, has developed the only pure UV based, FDA-cleared, class 2 medical device for fighting airborne infection and is now offering it to consumers.
This year's flu season is now in full swing and hitting earlier and stronger than anytime in the past decade, according to the Centers for Disease Control and Prevention (CDC). " Reports of Influenza-like-illness (ILI), are nearing what have been peak levels during moderately severe seasons, According to Dr. Joe Bresee, Chief of Epidemiology and Prevention Branch in CDC's Influenza Division. "While influenza vaccination offers the best protection we have against influenza, it's still possible that some people may become ill despite being vaccinated."
People who are most susceptible to flu complications include young children, people sixty-five and older, pregnant women and those with underlying medical conditions. While everyone should take extra precautions this time of year, these groups are urged to take simple, additional steps to remove or kill contaminated air before they breathe it in. Flu viruses can be transmitted from coughs and sneezes up to 6 feet away, and the average person breathes 3600 gallons of air per day, so indoor air quality is essential.
Germicidal UV light has been found to be one of the most effective methods of killing both airborne, and surface contamination, caused by bacteria and viruses. Hospitals routinely use ultraviolet light to kill bacteria and viruses on surfaces, and in the air. UV Flu Technology has developed a residential, air purifiers that utilize this this hospital-grade method.
"While the flu epidemic is still ongoing, or as long as we have product available, the company has decided to offer the Viratech UV-400 units to the public, at wholesale pricing," says John J. Lennon, President & CEO UV Flu Technology.
Anybody interested in learning more about how UV technology can protect their loved ones during this time of year, or to take advantage of the wholesale offer and buy a Viratech UV-400 can call the company TOLL FREE at (877)-FLU-KILL – (877) 358-5455.
About UV Flu Technologies, Inc.
UV Flu Technologies is an innovative developer; manufacturer and distributor of bio technology products initially targeting the rapidly growing Indoor Air Quality ("IAQ") industry sector ($7 billion in 2011). The Company manufactures the ViraTech UV-400, which utilizes high-intensity ultraviolet radiation (UV-C) inside a killing chamber that goes beyond filtration to destroy harmful airborne bacteria, at rates exceeding 99.2% on a first-pass basis, while also reducing the concentrations of odors, and VOC's (volatile organic compounds, such as acetone, benzene, formaldehyde, etc.) The FDA has issued a coveted Class II medical listing that enables UV Flu Technologies to market the product as a medical device. For more information, visit: http://www.uvflutech.com