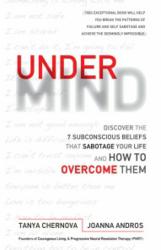 (Readers) will learn the scientific truth behind why they fail...
Pensacola, FL (PRWEB) January 19, 2013
Many firm and well-intended New Year's resolutions will fall by the wayside throughout the coming weeks, and this phenomenon has a root cause, according to authors Tanya Chernova and Joanna Andros. In their new book, UNDERMIND, from Indigo River Publishing, the authors claim that there are 7 subconscious beliefs that lead to self-sabotage, and that these beliefs block success in every aspect of life, from careers to relationships to health to personal peace of mind.
The book includes "revealing" personal surveys for the reader, along with "proven methods" for overcoming the layers of subconscious self-sabotage that may be discovered, according to Chernova. "(Readers) will learn the scientific truth behind why they fail, why they procrastinate, why they doubt themselves, and how to break free from the frustrating cycle of worry and anxiety," she says.
The book is based on exhaustive research, and a key component to the "breaking free" Chernova speaks of is a Progressive Neural Resolution Therapy or PNRT, developed by Andros, which is a means of "reprogramming" negative and limiting beliefs of the subconscious mind. The therapy is finding support among psychologists.
According to clinical psychologist and devotee Dr. Sharleen McDowall, "This approach is a powerful therapeutic modality that offers the psychological community a…very effective method to help individuals resolve their unconscious dysfunctional core beliefs. I believe the wisdom from these passionate teachers will be the turning point in (the lives of readers)."
Whether those readers simply want to nail that tricky New Year's resolution or make a deeper and more significant life-change, Chernova and Andros firmly believe that UNDERMIND will help to unblock their road to success.
For more information about UNDERMIND, visit http://www.indigoriverpublishing.com. For more information about Tanya Chernova and Joanna Andros, visit http://www.pnrt.ca.