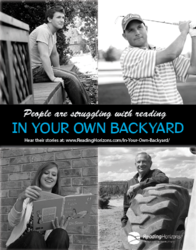 My biggest fear in life really is being called upon to read.
North Salt Lake, UT (PRWEB) January 18, 2013
Reading Horizons "In Your Own Backyard" series displays videos from members of the Salt Lake community that struggle with reading or writing. The adults in the videos range from a teen athlete to a professional golfer and a self-made millionaire.
Live Science reported that 14 percent of adults in the U.S. are unable to read and considered illiterate. Many of these adults are not comfortable sharing that and feel embarrassed by their inability to read.
"In Your Own Backyard" allows these adults the opportunity to see real people who struggle with the same things they do. It builds up their confidence to know that they are not alone in this and can still be successful.
"What I would tell someone else that struggles with reading would be. . . don't lose hope, I guess," said Dustin Volk, Professional Golfer. "There's avenues out there, there's people that will help you."
Reading Horizons's goal with "In Your Own Backyard" is to expose the impact illiteracy has on an individual's life and help adults that struggle with reading realize that they are not alone in this, and they can ask for help to learn how to read.
About Reading Horizons
Founded in 1984, Reading Horizons provides teacher training, teacher manuals, and interactive software that empowers teachers to effectively teach beginning readers, struggling readers, and English language learners. By teaching students the core of Reading Horizons framework (The 42 Sounds of the Alphabet, Five Phonetic Skills, and Two Decoding Skills) students have all of the skills they need to read over 86% of the words in the English language. The Reading Horizons program is currently offered in over 10,000 schools across the country.
###