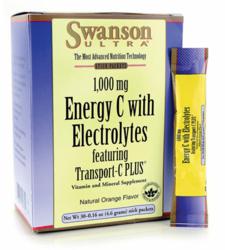 Fargo, ND (PRWEB) January 18, 2013
Swanson Health Products, a low-price leader in natural health products, introduces an affordable effervescent energy drink mix that is sugar-free and contains no artificial ingredients. Swanson Ultra® 1,000 mg Energy C with Electrolytes is a fast-acting vitamin C drink mix which is an alternative to a similar, higher priced energy drink mix on the market. Energy C also features Transport-C PLUS®, a complex designed to enhance antioxidant activity for immune system support.
Sweetened with stevia and natural orange flavor, one powder stick mixed with six ounces of water supplies extended energizing nutrition, potassium and electrolytes. The featured ingredient, Transport-C PLUS, combines ascorbic acid with alpha lipoic acid to reduce the loss of active vitamin C caused by oxidation. Vitamin C is then regenerated for more rapid cellular uptake and sustained benefits.
Swanson Health Products is an industry leader in bringing vitamins directly to consumers at the lowest prices possible. Swanson Health Products, headquartered in Fargo, ND, offers the highest quality vitamins, supplements and natural health care products and is Good Manufacturing Practices certified. Swanson Health Products goes a step beyond its competitors by offering powerful guarantees. All products are backed by a 100% Satisfaction, Money-Back Guarantee. For more information, please visit http://www.swansonvitamins.com.