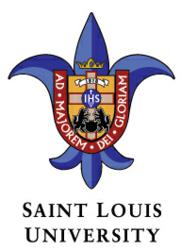 St. Louis, MO (PRWEB) January 17, 2013
The School for Professional Studies at Saint Louis University is now accepting applications for its Master's degree programs.
Perfect for busy adults, these programs are offered online and in blended formats in accelerated 8-week terms, making advanced education more accessible.
The Master's in Leadership & Organizational Development provides the skills necessary to effectively lead people in an ever-changing work environment. Effective leadership plays a significant role in the success of an organization - at every level.
Learn more about this program: http://www.slu.edu/x35289.xml
The Master's in Organizational Informatics allows information technology (IT) professionals to take the next step in furthering their careers. Organizational Informatics combines the interaction of technology with the human and organizational structures to support knowledge discovery, management and dissemination.
Learn more about the program: http://www.slu.edu/school-for-professional-studies-home/majors-and-programs/masters-degree-programs/ms-in-organizational-informatics
Saint Louis University is a Catholic, Jesuit institution that values academic excellence, life-changing research, compassionate health care, and a strong commitment to faith and service. Founded in 1818, the University fosters the intellectual and character development of nearly 14,000 students on two campuses in St. Louis, Missouri and Madrid, Spain. Building on a legacy of nearly 200 years, Saint Louis University continues to move forward with an unwavering commitment to a higher purpose, a greater good.