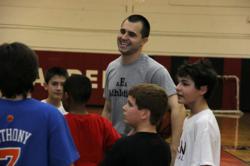 It is great to work with young athletes and teach them the lessons I learned when I was at Hun. I am happy to be giving back to a program that meant so much to me.
Princeton, NJ (PRWEB) January 18, 2013
Arizona Diamondbacks pitcher Steve Garrison '05 and Major League hopeful Mike Russo '08 have been hard at work in the baseball off-season. Both former Hun School student-athletes offered to exercise their expertise on the basketball court this season, helping coach at The Hun School of Princeton. Coach Garrison works with the Middle School boys' team and Coach Russo assists with the boys' junior varsity squad.
"Mike and I are both known for baseball, but I like to think that we became athletes on the basketball court, as much as the baseball diamond," said Mr. Garrison. "Mike and I both played basketball at Hun, and worked our way through the program, from the freshman team to the varsity team. I'm honored that Coach Stone had enough faith in me to invite me to coach this season. It means a lot. It is great to work with young athletes and teach them the lessons I learned when I was at Hun. I am happy to be giving back to a program that meant so much to me."
For Mr. Garrison, those lessons include trust, working together, and good communication. "This is a team sport. As a part of the coaching staff, I am trying to introduce fundamentals that Coach Stone will develop down the road," said Mr. Garrison.
Mr. Russo explained, "Working with athletes who will someday contribute to the varsity program, we have an opportunity to teach skills like discipline. I tell our junior varsity players about the expectations Coach Stone will have for them on the varsity team. We're all coaching our players to be part of a bigger program."
Both Mr. Garrison and Mr. Russo know about discipline and teamwork. To prepare for their upcoming baseball seasons, the two young pitchers workout together daily, long tossing and simulating bullpen sessions.
The Milwaukee Brewers drafted Mr. Garrison in 2005. Since his selection, he has been part of the San Diego Padres, New York Yankees, and Seattle Mariners organizations. In December, 2012 he was signed by the Arizona Diamondbacks.
Mike Russo was drafted by the Philadelphia Phillies in 2008, but deferred the offer to pursue a college degree. He attended North Carolina State on an athletic scholarship, before transferring to Kean University, from where he graduated in 2012. He will try out for independent teams at the end of January and hopes to be picked up by a Major League Baseball team following the 2013 draft.
The Hun School of Princeton is a co-educational, independent college preparatory school in which student-centered learning is encouraged within the context of traditional curriculum, preparing its students for the global community in which they will live and work. Individual attention and strong student-faculty relationships are the hallmarks of the School. The Hun School is comprised of 620 students in its Middle School, Upper School, and Postgraduate Program. The boarding community is home to 152 students from twenty-one countries and nine states.