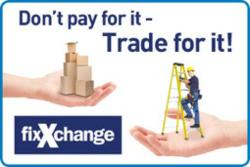 New York, NY (PRWEB) January 18, 2013
Fixxbook, ServiceChannel's commercial contractor directory, has announced the launch of FixXchange – an online commercial barter exchange dedicated to the facilities and contracting industries.
FixXchange is an online commercial barter community where contractors can trade their services, excess inventory, even unwanted equipment, for other products and services they need – including supplies, advertising, printing, hotel and restaurant credits, even real estate - instead of spending cash.
"We're excited to provide our members with this powerful resource to conserve cash," said Fixxbook President, Eric Schechter. "And with over $100,000,000 worth of products and services to trade for, there's something for everyone."
Unlike one-to-one trading, FixXchange members enjoy multi-party trading which means that when selling a product or service to another member, sellers are not limited to receiving the product or service of the company that they traded with. Instead, they can use their barter dollars to purchase anything listed on FixXchange from tools, uniforms, signage and truck repair, to real estate, hotel rooms, and vacations.
"FixXchange brings in new business because a member can now market their product or services to a vast universe of businesses that would never have known about them." Says Bruce Kamm of FixXchange. "This typically increases a business' sales by about 10 to 15% annually. And it enables a member to use trade dollars they've earned to pay for products and services instead of cash."
About Fixxbook® (http://www.fixxbook.com)
Fixxbook's mission is to connect commercial contractors with new revenue opportunities, educational and training resources as well as credentialing, marketing and management tools. Fixxbook's Private Network services provide facilities managers and associations with a set of tools to procure, manage and ensure compliance of commercial contractors. Fixxbook is a product of ServiceChannel, Inc.
About ServiceChannel (http://www.servicechannel.com)
ServiceChannel provides facility managers with a single platform to source, procure, manage and pay for facility maintenance services from their own network of contractors. By providing a real time, web-based view of service data across all trades, locations and contractors, facility managers drive significant ROI for their organizations without relinquishing control to outsourcers or investing in new infrastructure. More than 35,000 contractors use ServiceChannel every day at over 100,000 locations in over 24 countries. For more information, please visit http://www.servicechannel.com