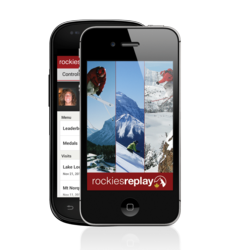 (PRWEB) January 17, 2013
Banff Lake Louise Tourism Launches Ultimate Ski and Snowboard App
'RockiesReplay' Allows Skiers and Snowboarders to Shred with Cred at Banff National Park Ski Resorts
Banff National Park, Alberta (January 16, 2013) – It's no secret amongst snow seekers that the hallowed chutes and champagne powder of Banff National Park's three ski resorts have witnessed some epic ski and snowboard performances. Until now, however, the tall tales and boastful claims of shredders everywhere have rarely escaped the confines of the local après watering hole. So you think you're king of the hill? Now you can actually prove it.
Introduced as one of the entertaining new activities to celebrate Banff National Park's SnowDays festival, RockiesReplay is an app designed for iPhone and Android devices that gives skiers and snowboarders the ultimate bragging rights when they hit the slopes. The app utilizes state of the art GPS technology to measure speed, airtime, vertical, distance, calories burned and much more and was recently unveiled at Mt. Norquay, Sunshine Village and The Lake Louise Ski Area. Once the free app is downloaded, a simple touch of your mobile device activates tracking of your entire day's performance. Upload with another touch at the end of the day and let the bragging begin. All your results can now be compared with riders, whether for the day or cumulatively against others skiers at virtually every ski resort in the world.
"RockiesReplay brings a whole new level of fun and social competitiveness for skiers and snowboarders at all three of our ski resorts," says Kurt Schroeder, Director of Marketing at Banff Lake Louise Tourism. "It's the perfect pairing of technology and ski culture, enabling friends and others to brag, share, compete, and simply extend their great day on the hill".
The new app is a customized version of the popular AlpineReplay app, while adapting the unique personalities and aspect of all three resorts in the park. Users can earn medals for achieving various milestones at each mountain and like the slopes themselves, rewards can vary in difficulty. For example, the "Explorer" medal at Lake Louise is for riding every lift, "Legend Legs" at Mount Norquay is for accumulating 1.5 million feet of vertical in a season, and "Gold Star" at Sunshine Village is for skiing more than 50 days in a season.
RockiesReplay presents performance statistics directly on your mobile device and even more detailed features can be enjoyed by logging in at the end of the day including video views, links to Facebook and Twitter and a virtual 3D topographic mapping of any given run, you against your friend.
For more information about Banff National Park's new ski and snowboard app, please visit http://www.rockiesreplay.com.
About Banff National Park
Banff National Park is Canada's oldest national park and a UNESCO World Heritage Site. For over 125 years, Banff National Park has provided visitors with a healthy combination of unspoiled wilderness, modern amenities and opportunities for active exploration. It is an area of unparalleled beauty, protected and cherished by Canadians and visitors from around the world. For more information about Banff National Park, please visit: http://www.banfflakelouise.com
Contact: Mary Morrison
403-762-0290
mary(at)banfflakelouise(dot)com