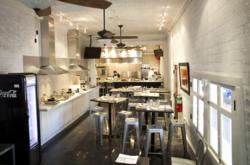 Growing up in Louisiana, you assume everyone eats dirty rice, gumbo and jambalaya and then one day you realize they don't. Langlois is my chance to share the flavors of my childhood and the history of Cajun and Creole cuisine with others.
New Orleans, LA (PRWEB) January 18, 2013
Amy Sins, International award-winning cookbook author, local radio host, and Beat the Chefs winner, is pleased to announce the opening of her innovative new restaurant, Langlois Culinary Crossroads. Part cooking school, part chef's tasting table, Langlois celebrates the history of Cajun and Creole cuisine in Louisiana.
Langlois Culinary Crossroads incorporates farm-to-table regional ingredients with entertaining discussions by chefs to create dining experiences and hands-on cooking classes unparalleled in New Orleans.
"Growing up in Louisiana you assume everyone gets to eat dirty rice, jambalaya and gumbo and then one day you learn that they don't. Langlois gives me the opportunity to share with others the flavors of my childhood and the history of why we eat what we do in Louisiana," says Amy. "There are so many amazing local products and ingredients available within 60 miles of New Orleans and we try to highlight them in our dishes."
Langlois Culinary Crossroads is named after Madame Langlois, the mother of Creole cuisine. A housekeeper to the governor of French Louisiana, Langlois invited newly settled French women in New Orleans into her kitchen. There they learned a unique fusion cuisine combining French culinary traditions with local ingredients and the foodways of nearby Indian tribes. Langlois' historic classes were at the "culinary crossroads" marking the beginnings of Creole cuisine. Inside a turn-of-the-century Italian market in the historic Marigny neighborhood, Amy Sins invites guests into her kitchen and carries on the tradition of Madame Langlois.
Amy says, "At Langlois, guests are treated to an entertaining and interactive culinary experience that ends with a restaurant quality meal easily prepared at home. For a moment in time, our guests get to join our chefs in the creation of a fantastic meal or sit back and relax and enjoy the show. Food lovers and cooks of all skill levels are welcome."
All classes are by reservation only. Reservations can be made online at http://www.langloisnola.com or by calling 504-934-1010. Guests are invited to bring their own wine for pairings with their meal and menus are available online. Breakfast seatings are $79 and include 3 courses, hands-on instruction, coffee and tea. Lunch seatings are $89 and include 3 courses, hands-on instructions, coffee and tea. Dinner classes are $120 and include 4-5 courses, instruction, coffee and tea. Langlois offers private events for as few as 10 or as many as 40 guests including private dinners, cocktail parties and teambuilding activities.
About Amy Sins-
Amy Cyrex-Sins is a born-and-raised South Louisiana girl with Cajun and Creole cooking embedded in her culinary DNA. The region serves as her pantry and she cooks with passion and enthusiasm using native ingredients and local food traditions – from boucherie to bayou, rice fields to roux, cypress-filled swamps to seafood fished from Gulf coastal waters. In 2012, Amy competed on and won Beat the Chefs, the Game Show Network's reality series that pits home cooks against professional chefs. Amy is the author of Ruby Slippers Cookbook: Life, Culture, Family and Food after Katrina (2006) and wife to George, and keeper of cats Flambeaux and Truffles, and two chickens named Hollandaise and Soufflé.
Contact:
Amy Sins
504-934-1010
info(at)langloisnola(dot)com
http://www.langloisnola.com