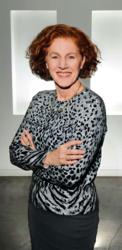 Acidosis and inflammation are the underlying causes of many chronic diseases.
Delta, British Columbia (PRWEB) January 21, 2013
With celebrities like Victoria Beckham and Gwyneth Paltrow recently touting it as their diet of choice, it's no wonder the awareness of being "alkaline" is becoming more widespread. But it's something that has been long understood by Yvonne Anderson, Founder and CEO of Santevia Water Systems.
On January 21, Anderson was invited to the set of Vancouver's CTV Morning Live to talk about alkaline water and why it's important in the fight against acidity in our bodies. One of the biggest surprises to CTVs Ann Luu, was the test showing bottled water was more acidic than our municipal tap water. Having had her own family impacted by acidity, Yvonne has spent years researching acidity and alkalinity -- discovering the positive impacts something as simple as alkaline water can have on fighting chronic disease. Discovering the benefits of alkaline water was one hurdle – but finding affordable alkaline water was another. And so, Santevia was born. Bringing affordable, eco-friendly, alkaline water to people everywhere has always been the driving force behind Santevia. Click here to view the January 21 episode.
About CTV Morning Live Vancouver
CTV Morning Live airs weekday mornings from 5:30-9:00am PT. Hosts Aamer Haleem and Norma Reid keep Metro Vancouver updated on the latest news with weather updates from Marke Driesschen, and traffic monitoring by Ann Luu.
About Santevia
Santevia Water Systems Inc., located in Delta, B.C. Canada, manufactures and distributes water filtration and mineralization products creating alkaline water in convenient, eco-friendly and cost-effective ways. Santevia revitalizes tap water by adding essential minerals creating alkaline, pH balanced water helping your body combat disease and stay healthy. Santevia also donates 10% of all profits to the Santevia Gives Back program which supports projects providing food, shelter, education and clean drinking water to those less fortunate.