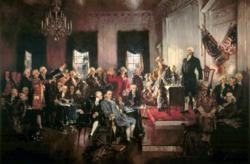 In truth, Americans are Americans by the power of constitutional words.
Chicago, IL (PRWEB) January 31, 2013
Women as We the People, and their lack of representation, is the focus of a new blog posting by author and political scientist Bryan W. Brickner.
"With the 2012 election and President Obama's inauguration behind us," noted Brickner, "it's an apt time to examine the role of usurped representation."
The US Constitution mandates one Representative for every "thirty Thousand" citizens (Article 1, Section 2, Clause 3). Congress first changed the ratio, without amending the Constitution, on 9 April 1792, to 33,000. Today the usurped representation ratio is one Representative for every 710,000 citizens.
"The founders," Brickner emphasized, "specifically George Washington and James Madison, put the number 30,000 in our Constitution – not me or you – and 50 states have ratified it. In truth, Americans are Americans by the power of constitutional words."
"Also," added Brickner, "building a new Congress, a constitutional Congress with more than 10,000 representatives, would correct one of usurpations most embarrassing facts: women being 51% of We the People and represented in Congress at 18%."
Brickner has a 1997 political science doctorate from Purdue University and is the author of several books to include The Promise Keepers: Politics and Promises (1999) and Article the first of the Bill of Rights: the forgotten story of constitutional representation (2006). The Bryan William Brickner blog provides a collection of his published works and press coverage and is an ongoing resource for the political science of constitutional usurpation and the biological science of cannabinoids.