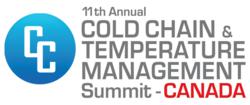 New York, NY (PRWEB) January 22, 2013
Cold Chain IQ, a division of IQPC, brings you the 11th Annual Cold Chain & Temperature Management Summit – Canada, taking place February 25-28, 2013 at the Hyatt Regency in Toronto. Network and share best practices with 250+ industry colleagues and supply chain stakeholders as the summit will address new concerns and offer enhanced coverage on core topics including:
•How to make the best decisions for cold chain packaging design, performance and cost while considering your organizational requirements and multiple supply chain partners
•Mitigating risk and implementing robust processes in your Canadian and international supply chains
•Containing increased costs associated with CRT and ambient products
•Establishing quality systems & controls from end to end, including return and restocking
•Health Canada's proposed revisions and your practical approaches on how to bring your organization into compliance with international regulations
•Speeding up the import process while reducing costs for incoming temperature sensitive products
•View the event brochure here: [http://bit.ly/Wb1AKR __title__ Cold Chain Canada Brochure]
Featured speakers include:
•Sarah Skuce, Compliance Specialist, Health Canada
•Allan Reynolds, Vice President, Industry & Member Relations, CAPDM
•Taha Yayci, M.S. Republic of Turkey Ministry of Health
•Claude Jolicoeur, Director, Regulator Affairs, Corporate GMP Officer, McKesson Canada
•ncluding industry case studies from Grifols Inc., UCB Inc., Relypsa Inc. Sunovion Pharmaceuticals Canada, Johnson & Johnson and more.
Temperature control and sensitive handling are fundamental requirements of most life sciences products today. As the supply chain continues to increase in importance, the Canadian market is facing costly challenges resulting from evolving regulations and Federal laws protection low retail drug costs. Learn from cost-effective case studies and solutions for a quality distribution & management of temperature controlled medicines in Canada.
The annual event also features a unique, interactive 2 day training on Good Distribution Practices by Air, Road & Ocean for Temperature Sensitive Healthcare Products. The comprehensive course prepares practitioners to understand logistic processes end to end and how work with all supply chain stakeholders.
Full Event Brochure is available here: [http://bit.ly/Wb1AKR __title__ Cold Chain Canada Brochure]
A Past Attendee Snapshot is available here: [http://bit.ly/13LBAw3 __title__ Past Attendee Snapshot]
For more information on the 11th Annual Cold Chain & Temperature Management Summit – Canada, please visit http://www.coldchainpharm.com or contact Taryn Soltysiak at Taryn.Soltysiak@iqpc.com.com
VIP Passes are available for Directors level and above from BioPharma manufacturers. Email vip@iqpc.com for full details.
About IQPC
IQPC (http://www.iqpc.com) provides business executives with tailored practical conferences, large-scale events, topical seminars and in-house training programs. Producing over 1,500 events annually around the world, IQPC continues to grow and has offices in cities across six continents including: Berlin, Dubai, London, New York, Sao Paulo, Singapore, Sydney, and Toronto.
Contact:
Taryn Soltysiak
IQPC
P:+1 646-200-7945
E : Taryn.Soltysiak@iqpc.com
http://www.ColdChainPharm.com