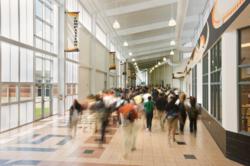 "... So the intent is always to deter that type of behavior, and that's one of the benefits of cameras" , says Peter Pochowski, Secretary at the National Assoc of School Safety & Law Enforcement Officers
(PRWEB) January 23, 2013
http://www.securityproductdepot.com/ Violence on the street and in the home has wandered its way into the classroom. Parents and their children no longer feel that the classroom is safe from potential threats. This is evident due to the devastating events that occurred at the Sandy Hook Elementary school. The use of CCTV Cameras can help deter and prevent of similar tragedy.
Students are subjected daily to the possibility of a reenactment of the recent school tragedies along with the risk of being threaten, beaten, and bullied at anytime and anywhere on the school grounds, creating an emotional strain on both students and their teachers.
Although security guards and metal detectors are used to deter violence and behavioral issues, their presence is not enough. Security Guards aren't physically able to be in all places at all times and metal detectors can't detect bombs, drugs and student behavior.
Schools are turning to CCTV cameras. Cameras can be placed in school buses, hallways, classrooms, playgrounds and any place where students gather. Surveillance cameras are proven to help prevent violent acts, inappropriate behavior, vandalism, drugs, theft, gang activity and potential child abductions. In the event an incident does occur, recordings from CCTV cameras can be instantly replayed by School Administrators. Suspects can be identified and held accountable with solid proof.
CCTV Cameras can provide long range viewing while having the capability to provide crystal clear images. PTZ Cameras can also pan, tilt, and zoom providing maximum coverage by overcoming dead spots. Also, surveillance cameras with infrared technology can identify activity at night allowing the CCTV system to record during the nighttime hours to spot and record unusual activity such as break-ins and vandalism.
There is argument among facility members, parents and their students that the use of surveillance cameras is an invasion of privacy. Realistically, they are a preventive measure in the protection of those who are crying out. For those creating violence and unacceptable behavioral acts, they are identified and punished, giving others students an example what can happen if they do.
By creating a safer environment that eliminates the fear and stress in the classroom, students and teachers can relax and enjoy a healthy learning environment.
Security Product Depot is an established online provider of physical security products. As an innovative source of online security products, they are committed to offering a broad array of the latest technology in surveillance equipment to help their clients protect their assets and property.