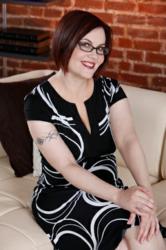 (PRWEB) January 20, 2013
What is kink and BDSM? This documentary special looks at the lives and relationships of real dominants and submissives and features commentary from BDSM experts. Taormino is a sought-after speaker and commentator on a range of issues, including alternative practices and communities. Her groundbreaking collection The Ultimate Guide to Kink, published by Cleis Press in 2012, features the work of leading kink experts from around the country. Dan Savage calls it a guide "everyone can learn from." Her latest book (also from Cleis Press), 50 Shades of Kink: An Introduction to BDSM, offers readers practical advice and techniques based on real world experience about how to eroticize power, cultivate deeper connections, and incorporate kink into your life.
E! Entertainment Specials explore the hottest trends, the biggest stars and breaking stories, and "The 50 Shades of Grey" is part of its White Hot Winter programming in January.
Tristan Taormino is an award-winning author, columnist, editor, filmmaker, and educator. She's written for a multitude of publications from Yale Journal of Law and Feminism to The Village Voice to Penthouse. She has been featured in more than 400 publications and appeared on countless TV and radio shows. She lectures at top colleges and universities and teaches around the world.
Cleis Press is the largest independent queer publishing company in the United States. Located in Berkeley, California, Cleis Press publishes books in the areas of gay and lesbian studies, erotica, fiction, gender studies, and human rights.