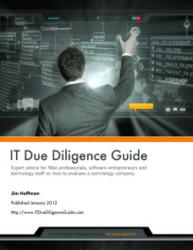 The word is getting out that IT due diligence can have a significant impact on transaction and integration success.
(PRWEB) January 22, 2013
Alzhan Development LLC, publishers of the IT Due Diligence Guide, by Jim Hoffman, is pleased to announce that the free IT due diligence checklist associated with the book has been downloaded over 10,000 times by finance, technology, compliance and audit professionals around the world.
In mergers and acquisitions, it's not unusual for the due diligence process to focus on financial and legal issues. In many cases, an IT due diligence effort is not undertaken at all, even when the target is a technology company. "The large number of downloads of the checklist is evidence of the growing interest in learning more about technology and software due diligence," says author Jim Hoffman.
A recent Ernst & Young study determined that many transactions, in hindsight, could have been more successful had IT due diligence been a focus on the front end. "The word is getting out that IT due diligence can have a significant impact on transaction and integration success," says Hoffman.
The items listed in the free checklist have been shown over many acquisitions to best solicit the information needed to make an informed decision about a technology company purchase or investment. In the IT Due Diligence Guide book, each question includes a detailed explanation as to why the question is important and what the potential answers can tell an investor about an acquisition target.
The IT Due Diligence Guide is priced at $195.00. "The information in the book isn't easy to obtain unless you've been involved in a large number of IT M&A transactions," says Hoffman. "If the book shows you just one thing to ask for that you wouldn't have come up with on your own, it can pay for itself many, many times over. In the end, for less than the cost of one hour of a consultant's time, you can be well on the way to an effective technology due diligence process."
The IT Due Diligence Guide is sold with a 100% money back guarantee.
The book is available at http://www.ITDueDiligenceGuide.com. The website also includes resources such as the IT due diligence checklist and an IT due diligence blog.
About the Author
Jim Hoffman has over twenty years of experience in technology companies in the healthcare, financial, telecommunications and leisure industries. Throughout his career, he has been called upon to lead many due diligence efforts, including mergers & acquisitions on both the buy and sell side. He has held numerous senior management and executive positions, and is currently the Chief Operating Officer at a national healthcare consulting firm.