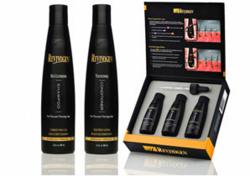 ...Some natural products claim to prevent hair loss, but Revivogen is one of the few natural products that blocks DHT, thus stopping the
Los Angeles, CA (PRWEB) January 21, 2013
Beverly Hills Hair Restoration saw a trend among its patients. Some, both men and women, were seeking nonsurgical hair loss solutions that were both natural and with little side effects. This also included women suffering from female pattern baldness that did not have the option of drugs like Propecia (only FDA-approved for men). A Dermatologist-formulated product, Revivogen targets the production of DHT (dihydrotestosterone) to stop the hair loss process. This is unique in that some natural products claim to prevent hair loss, but Revivogen is one of the few natural hair loss products that contains ingredients to reduce the DHT that hinders normal follicle growth.
Dihydrotestosterone (DHT) is a chemical derivative of testosterone that forms in the body when the metabolism of androgen involves with an enzyme called 5-alpha-reductase. DHT restricts the hair follicle growth process by preventing proteins, vitamins and minerals from getting to the follicles for regular growth.
Beverly Hills Hair Restoration is now offering Revivogen in their clinic to patients who are seeking a natural hair loss product, as well as those who are going to have or have had a hair transplant. The hair loss product can also be combined as a regular hair loss prevention regimen for those who have had a hair transplant procedure. While a hair transplant is the optimal solution for hair regrowth, DHT may still be present in the system. Revivogen's Scalp Therapy Treatment can be used after a hair transplant procedure as a daily regimen to prevent future hair loss by targeting this production.
About Beverly Hills Hair Restoration
Beverly Hills Hair Restoration is a Los Angeles Hair Restoration clinic dedicated to both hair transplant surgery and hair loss prevention worldwide. BHHR is one of the leading hair restoration clinics to offer minimally invasive surgical hair loss solutions that yield natural results for their patients.
About Revivogen
A Dermatologist-formulated natural hair loss product, Revivogen was formulated for people suffering from hair loss who want an effective all-natural solution without any side effects. It is proven to offset the effects of male and female pattern hair loss by addressing its root cause. Scientific studies have shown that the ingredients in Revivogen are both individually and synergistically effective in helping reverse hair loss for both men and women.