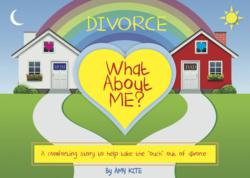 It is a great tool for parents as it reminds them of the positive, loving messages they can use to reassure their kids, Amy Kite, author
Chicago, Illinois (PRWEB) January 22, 2013
Chicago author Amy Kite has hit on a nerve in the arena of divorce with her recently published children's book, "Divorce – What About ME?" As millions of parents struggle with the many issues of divorce, Kite offers a positive spin for the children of these divorcing parents. Providing perspective for both parents and kids, her tender story written and illustrated in a vibrant coil-bound book suggests the ongoing focus that many things will remain the same amidst this great change.
Having consoled her three children through her own divorce, Kite has taken the initiative to help other kids throughout this difficult process. "Full of colorful images and a soothing, rhyming tale, this book can provide so much comfort for kids who are hurting," Kite said. "It also is a great tool for parents as it reminds them of the positive, loving messages they can use to reassure their kids."
Judy Kaplan, who also published the book, "Divorce – What About ME?" designed the colorful graphic illustrations. Also divorced, Kaplan has devoted the last 15 years to assisting people going through a divorce. As a psychotherapist and publisher, her work has always included strategies for transitional tough times. Kaplan said, "Amy's book really captured the confusion, fear and sadness children feel when their parents are going through divorce. Though I am not an illustrator by trade, I felt compelled to create characters to convey the beautiful message to children that life will be okay again."
At a recent launch party at VIBE in Highland Park, Illinois, both Kaplan and Kite met with nearly 100 attendees, many of whom were divorced, divorcing or know people who are going through the process. Met with rave reviews, dozens of books were signed and sold. One of the guests said, "I wish this book had been written when I went through my divorce when my children were 3 and 5."
"Divorce – What about ME?" was written for children ages 3 to 9. It is available on amazon.com, through some therapists, law firms, mediation firms, school programs, boutique bookstores and on Kite's website, http://www.amyleekite.com. Its coil binding and laminated pages will endure over time and can be enjoyed by parents and children over and over again. Currently, it retails for $18.95 and is on special for the month of January for $15.95.
Published by Renaissance Communications, substantive discounts are being offered to professionals who are interested in purchasing quantities for clients or school/institutional programs. Contact Judy Kaplan at judy(at)renaissance-communications(dot)com or by phoning 847-833-9585 for quantity purchasing or interviews with author, Amy Kite.