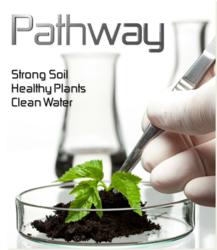 "We are excited about this innovative new product that enables gardeners to feed with a natural product" - Paul McCray, Easy Gardener's VP Merchandising
PLANT CITY, FL (PRWEB) January 30, 2013
Florida based microbial technology company, Pathway BioLogic, has developed the U.S. market's first microbial based organic water soluble fertilizer which will be marketed and distributed to the retail consumer market by Waco Texas based Easy Gardener Products, Inc. under the popular Jobe's Organics consumer brand.
Easy Gardener Products, Inc., manufacturer and distributor of some of America's best known lawn and garden product brands to top lawn and garden retailers in the U.S., Canada, and U.K., including perhaps their best known leading brand, Jobe's® fertilizer spikes and tree care products, as well as WeedBlock® landscape fabrics and ROSS® root feeder and fertilizers, are launching this product for their upcoming 2013 spring season. After a successful 2012 soft launch during the past spring lawn & garden season, Paul McCray, Easy Gardener's VP Merchandising said, "We are excited about this innovative new product that enables gardeners to feed with a natural product enhanced with Jobe's Biozome, our brand of microbes, that were developed with Pathway Biologic to yield great results."
Easy Gardener Products, Inc. is calling the product Jobe's Organics Water Soluble Plant Food, and will be available this spring in select Home Depot and other Lawn and Garden retailers. Jobe's Organics Water Soluble Plant Food will be available in a variety of formulas including All Purpose and Vegetable & Tomato claiming that this water soluble natural fertilizer will help gardeners achieve vibrant, living soil needed for optimum plant growth. Pathway's Dr. Marleny Burkett, Microbiologist and Plant Pathologist says, "One of the key functions and benefits of beneficial microbes being part of a plant's fertilizer and nutrition regimen is that of improving nutrient availability in the soil, and optimizing the plant's capacity to uptake and utilize these nutrients. This results in improved plant health and growth."
Mounting research data showing the soil and plant benefits to be gained by the application of beneficial plant growth promoting bacteria are leading both the consumer and professional markets toward wider acceptance and use of proven microbial products such as those that Pathway formulates. "Seeing the breakthrough results that our emerging microbial technology is already proving, and the exciting potential in our product R&D pipeline, we are busy looking for progressive companies who want or need a microbial technology partner to develop and market innovative products that provide them with a sustainable competitive advantage", says Mark Warren, Managing Partner and head of Business Development for Pathway. "We are pleased to be able to offer Easy Gardner some of the tools that will enable them, and the consumers that buy their products, to be successful."
About Pathway BioLogic
Pathway BioLogic, is an emerging leader in applied microbiological technology that formulates and markets advanced microbial solutions for the Agriculture, Professional Turf, and Horticulture markets, as well as Private Label solutions for Retail Lawn & Garden. Pathway's core agronomic focused microbial products include Merge, Matrix, Manage, NRG, and RootHoney. Pathway also provides sustainable bio-remediation and bio-augmentation solutions to complement and optimize chemical, mechanical or filtration processes for Water and Industrial Waste Water Remediation.
Pathway's science R&D and product development, from its own BioLogic Laboratory, are focused on deploying the benefits of high performance PGPR microbial technology with client fertilizer products and nutrition programs to drive and optimize soil and plant health. Optimized plant growth, maximized resistance to plant pressures, and improved growing ROIs are the benefits Pathway clients are experiencing.
Pathway's solutions and services, marketed through Distributors, are technology independent, patent protected, and 100% ecologically sustainable. Pathway's state-of-the art molecular laboratory and facilities are located in Plant City, Florida, the center of both Central Florida's Agricultural community and Florida's high-tech corridor.

For more information contact Mark Warren at mwarren@PathwayBioLogic.com -