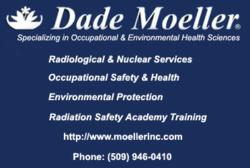 Richland, WA (PRWEB) January 23, 2013
Dade Moeller is pleased to announce that its team of dedicated employees has surpassed a significant milestone – working safely for one million hours without an OSHA recordable injury. This is an important achievement for any company, but especially for one like Dade Moeller, which provides worker safety and radiological protection services to government and commercial customers across the country, often in high-hazard areas. This milestone was accomplished with more than two full years of incident-free work.
"This accomplishment underscores the fact that worker health and safety is not just a service we offer to our customers," said Dade Moeller President David McCormack, "but also an integral part of our corporate culture that drives our decision-making and daily practice with appropriate planning, controls, and oversight. Making sure that our employees, and our customers' employees, go home to their families at the end of each day is something that we take very seriously."
These one million safe hours are especially significant given recent and rapid changes in the type of work that the company performs. For example, Dade Moeller manages the physical intake process for all environmental and biological samples taken as a result of the 2010 British Petroleum (BP) Deepwater Horizon oil spill in the Gulf of Mexico. That work involves safely retrieving samples from the field and transporting them to laboratories across the Gulf Region, as well as collecting samples aboard National Oceanic and Atmospheric Administration (NOAA) vessels. Dade Moeller employees also work at U.S. Department of Energy hazardous waste sites, including at Hanford where the firm supports the safe remediation of highly contaminated plutonium waste burial grounds. The company's radiation protection experts also have made multiple trips to Japan to ensure safe demonstrations of decontamination equipment following the Fukushima Daiichi nuclear power plant accident in 2011. Additionally, numerous private sector companies rely on Dade Moeller's medical physics and industrial hygiene expertise to ensure the safety of their operations, from working with radioactive sources and wastes in medical facilities to mitigating the chemical, environmental, and ergonomic hazards inherent in large-scale commercial industries.
Under the Occupational Safety and Health Act of 1970, U.S. companies are required to record certain work-related injuries and illnesses. This is the second time that Dade Moeller has achieved the 1,000,000 safe work hours milestone since the company was created in 1994; in 2007, the company celebrated 1,200,000 hours worked without a lost-time injury.
About Dade Moeller: Headquartered in Richland, Wash., Dade Moeller provides professional and technical services to commercial and government customers in support of environmental, nuclear, radiological consulting, and worker safety operations. The company employs more than 200 people, including Certified Industrial Hygienists, Certified Safety Professionals, and Certified Health Physicists, and holds over 100 safety-related contracts across the country.