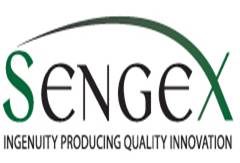 Our methodology is based on utilizing our highly qualified and well experienced teams to focus on providing both near term and long term data assurance strategies
McLean, VA (PRWEB) January 24, 2013
SENGEX will be exhibiting at the largest state-of-the-art defense and technology exposition and conference on the West Coast at the San Diego Convention Center, January 29-31. The Western Conference and Exposition – West 2013 – co-sponsored by AFCEA and the U.S. Naval Institute, will feature exhibits from more than 300 technology leaders and discussions by leading military experts.
SENGEX is a Service Disabled Veteran Owned Small Business (SDVOSB) focused towards providing data and wireless security solutions to government and commercial organizations.
SENGEX's products and services enable organizations to implement leading edge security solutions quickly and economically, providing customers the comfort their mission critical data is safe from risk at rest or in transit across public and private networks
"Our methodology is based on utilizing our highly qualified and well experienced teams to focus on providing both near term and long term data assurance strategies", said John Meincke, CEO of Sengex. "We achieve this by using our proven process of analysis, proof of concept, and implementation of the best data security technology that meets our customers' needs."
West 2013 is the largest event on the West Coast for communications, electronics, intelligence, information systems, imaging, military weapon systems, aviation, shipbuilding, and more. Focusing on "Pivot to the Pacific: What are the Practical and Global Implications?", West 2013 will feature leading military experts and analysts addressing various topics related to national defense including budgets, cyber warfare, the Chinese navy, and much more.
For on-line registration and program updates go to http://www.westconfexpo.org. For media registration contact Tobey Jackson at 703-631-6189 or by email at tjackson(at)afcea(dot)org.
About SENGEX LLC
SENGEX providing highly innovative data security solutions across all aspects of business operations that meet business's internal and regulatory requirements as they relate to electronic information sharing across the organization or between partners and vendors. This assures our customer's that their businesses information is safe from ever evolving cyber threats.
To learn more about SENGEX product and services, visit: http://www.sengexllc.com, email at info(at)sengexllc(dot)com, or call 703-506-0040.