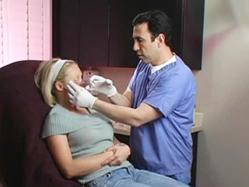 Botox has such a wide range of utility. The fact that it's becoming practical in ways beyond cosmetics speaks volumes about its effectiveness. - Dr. Simon Ourian
Los Angeles, CA (PRWEB) January 22, 2013
Kelly Ripa, co-host of Live! With Kelly and Michael, admitted last week in an Elle Magazine interview to using Botox injections in her armpits as a way to control hyperhidrosis. Approximately three percent of Americans suffer from this condition, commonly known as excessive sweating, resulting in a growing need for an adequate treatment.
"It's the Botox," Kelly Ripa answers when an interviewer from Elle magazine questions her lack of underarm sweat after a workout. The actress and television host reveals that she receives Botox injections every seven months, or more if she finds it necessary. "Oh, you know when you really need it?" Ripa said. "It's when my kids start asking me if I'm mad at them." (go to: goo.gl/vjKOW).
Dr. Simon Ourian, M.D., founder of Epione Medical Corporation, is encouraged by the successful use of Botox for cosmetic and medical purposes. Dr. Ourian has said, "Botox has such a wide range of utility. The fact that it's becoming practical in ways beyond aesthetics speaks volumes about its effectiveness."
Hyperhidrosis sufferers are hopeful that Kelly Ripa's experience is more of the rule, rather than the exception. The condition is thought to occur in people who have overactive sweat glands. It may strike in a single place, such as the armpits, or over the entire body. The majority of cases seem to have no cause, which makes treatment difficult. While the condition does not usually cause physical pain or disfigurement, it can cause great psychological harm. "I realize that excessive sweating can be hugely embarrassing for some sufferers." says Dr. Ourian. "That's why I'm happy to offer a free consultation to anyone seeking a solution."
Kelly Ripa shows no sign of discontinuing her use of Botox to control underarm sweat. Her positive influence in the media shines a light on the sensitive subject of hyperhidrosis and its unconventional treatment.
Epione offers Botox and numerous other treatments to address face, hair, skin, and body concerns including excessive sweating.