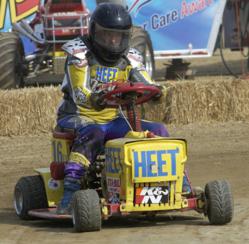 Like Ground Hog Day, Hedge Hog Day is good fun and helps us await the arrival of spring." Bruce Kaufman, "Mr. Mow It All" U.S. Lawn Mower Racing Association President.
Northbrook, IL (PRWEB) January 23, 2013
As winter holds its' icy grip and fans of Ground Hog Day gather in Pennsylvania awaiting America's "First Rodent," the 2nd annual "Hedgehog Day", Friday, February 1, will determine when lawn mower racing legend Mike "Hedge Hog" Miller begins his 20th consecutive STA-BIL Lawn & Garden Mower Racing Series season.
On "Hedge Hog Day", at Miller's home burrow in Pleasant Prairie, Wisconsin, the veteran STA-BIL Lawn Mower Racing Series veteran will bring his souped up, 80-mph Factory Experimental HEET Gasline Antifreeze-sponsored racing mower out of its' winter hibernation. If the Hedgehog does not become scared by his shadow, he will leave the warmth of his burrow and his lawn mower racing season will begin April Fool's Day, the 21st Birthday of the U.S. Lawn Mower Racing Association (USLMRA). If the Hedgehog sees his shadow, he will return to his garage to make final preparations for his debut, which will take place in the warmth of the summer sun.
At the inaugural Hedge Hog Day in 2012, Miller did not see his shadow, and so made his debut on April Fool's Day, piloting the Hedge Hog, a 1968 E.T. Rugg, with a 390cc Honda Power motor, that turns 45 horsepower, around his backyard in the early morning before the neighbors woke up and called the police.
The Hedge Hog will go zero to 50 in 5.5 seconds and reach a top speed of 80 mph. Miller built The Hedgehog 16 years ago and has piloted his trusty ride to numerous STA-BIL Series victories and championships in his 20-year lawn mower racing career, including an 8th place National Points finish in the 2012 USLMRA STA-BIL Series.. Miller began his USLMRA career in 1993 and will mark his 20th consecutive year stomping sod and tearing up turf at races held across the country.
"While Americans in Punxsutawney, Pennsylvania celebrate the emergence of America's famous winter rodent on Ground Hog Day, we'll brave the cold one day earlier, on Hedge Hog Day," said Bruce Kaufman, "Mr. Mow It All", USLMRA Founder & President. "And like Ground Hog Day, Hedge Hog Day is good fun and helps us await the arrival of spring."
Hedgehog survives the cold winter with HEET Gas-Line Antifreeze & Water Remover. Hedgehog fills up with HEET each winter to keep him mowing and going. HEET removes water from the fuel system to prevent gas-line freeze-up and harmful rust and corrosion. Miller also uses Iso-HEET Premium Fuel-line Antifreeze, Water Remover & Injector Cleaner. It absorbs five times more water than regular gas-line antifreeze, while it cleans fuel injectors and carburetors. It's designed for use year-round in all 2-cycle and 4-cycle gasoline engines and diesel engines.
About the U.S. Lawn Mower Racing Association:
Founded on April 1, 1992 and celebrating its 20th Anniversary in 2012, the USLMRA sanctions and presents organized lawn mower racing across America including the 20-race STA-BIL® Lawn and Garden Mower Racing Series and a network of 50 Local Chapters and Affiliated Clubs hosting more than 140 sanctioned races nationwide every year. STA-BIL® lawn mower racers compete in ten classes at speeds up to 60 mph with all cutting blades removed. Race mower classes include Junior Prepared (8 mph), IMOW (20 mph), Prepared (50 mph) and Factory Experimental (60 mph). Racers compete for trophies, points and bragging rights, never for purse money. The annual STA-BIL® Keeps Gas Fresh Finals national championship is televised on Fox Sports Net "Race Freaks" USLMRA sponsors include STA-BIL Fuel Stabilizer, HEET GasLine Antifreeze, Diesel Power!,104+ Octane Boost, No Leak, Alumaseal, Start Your Engines!, K&N Filters, Gnomefrenzy.com, Wheelies Tractor Wheel Covers and Auggiedog Poop Pickup Tool. For mow info please visit http://www.letsmow.com.
About Gold Eagle Co., makers of STA-BIL Fuel Stabilizer, USLMRA Title Sponsor:
For 80 years, Gold Eagle® Co. has been an industry pioneer in the production and distribution of aftermarket fluids and additives, creating products that help preserve, protect and enhance the performance of engines everywhere. Gold Eagle® Co is a leader in the product development, manufacturing, marketing, and distribution of branded engine performance and maintenance chemicals. Privately held and headquartered in Chicago, Gold Eagle Co. is the manufacturer of leading brands, including STA-BIL® Fuel Stabilizer, HEET® Gas-Line Antifreeze, NO-LEAK® Treatments, 104+® Octane Boost, Start Your Engines® and DieselPower!® Diesel Additives. To view a complete line of Gold Eagle products or learn more about the Company, please visit http://www.goldeagle.com.