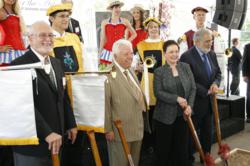 ORANGE, Calif. (PRWEB) January 23, 2013
Chapman University has named its Conservatory of Music in honor of Dr. William Hall, the longtime choral director and performing-arts dean at the university, who is celebrating his 50th year at Chapman this year, and Newport Beach couple Marybelle and Sebastian P. Musco, whose support of performing arts at Chapman has included their leadership of the fundraising drive for the $64 million, 1,100-seat Musco Center for the Arts, set to open on campus in 2015.
The naming of the William D. Hall and Marybelle and Sebastian P. Musco Conservatory of Music was announced by Chapman President Jim Doti at a gala dinner on campus honoring Hall's 50th Anniversary, which drew arts luminaries from throughout Southern California and more than 500 of Hall's former students.
"How appropriate it is that I am able, on the occasion of the Golden 50th Anniversary celebration of William Hall's exemplary service to Chapman, and on the brink of construction of our Musco Center for the Arts, to announce that our Conservatory of Music, now and evermore, will be known as the William D. Hall and Marybelle and Sebastian P. Musco Conservatory of Music," said President Doti. "The story of Chapman University cannot be told without telling the story of Bill Hall, the transformational effect his musical genius has had on thousands of our students, and the fame he has brought to Chapman University through his ensembles' many world tours and his superb leadership on our campus. Now, as dean of our Musco Center for the Arts, his story is intertwined with that of Marybelle and Paul Musco, whose incredible generosity and love for Chapman have made possible our dream of a world-class performance facility for our students and our community. My thanks and congratulations to Bill, Marybelle and Paul."
"This is an extraordinary honor and completely unexpected," said Dr. Hall when he was told of the naming. "To share the naming of the Conservatory with Marybelle and Paul is perhaps the greatest honor of all. It has been my pleasure and joy to have served Chapman University as a music director and dean these five decades, and I can tell you that I don't intend to slow down yet – there is far too much to do as the opening of the new Musco Center for the Arts approaches, and I look forward to continuing my work with the Muscos to bring their vision for a world-class performance venue onto the campus of Chapman University."
"Paul and I cannot be more overjoyed than to share the name of Chapman's Conservatory with Bill Hall," said Marybelle Musco. "His amazing legacy really IS the history of Chapman's music programs. He built them, he led them and he carried the music of Chapman to the world. His impact on generations of students cannot be overstated. To have our names paired with his on the conservatory that has launched so many gifted singers and musicians onto the stages of the world is an extraordinary honor."
About the William D. Hall and Marybelle and Sebastian P. Musco Conservatory of Music
The Hall-Musco Conservatory of Music at Chapman University provides aspiring musicians with a rigorous, professional musical training program, coupled with a supportive liberal arts environment. This outstanding music curriculum prepares students to enter a variety of professional fields after graduation or to continue their studies in top graduate programs throughout the country.
The Hall-Musco Conservatory offers the Bachelor of Arts in music and pre-professional programs leading to the Bachelor of Music in composition, music education, and performance (conducting, instrumental, keyboard collaborative arts and vocal).
Chapman University first offered the Bachelor of Music degree in 1930-31 and has presented a thorough music curriculum blended with liberal learning ever since. The university's music facilities compare with institutions far larger in size and offer a fine setting for both instruction and musical presentations. The Hall-Musco Conservatory of Music is an accredited institutional member of the National Association of Schools of Music.
###