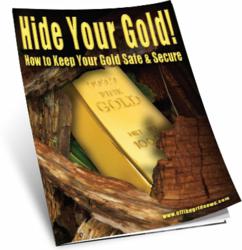 This complimentary report gives you practical advice on managing your gold through different scenarios. We're pleased to offer our customers yet another way to weather the financial storms of the tumultuous times we live in."
Thomson, IL (PRWEB) January 24, 2013
Ever since the budget impasse in Congress, independent publication Off The Grid News has been working tirelessly to release its complimentary report Hide Your Gold. There's no doubt, consumer confidence in government's ability to be fiscally responsible and make the hard decisions is at an all time low. Only 35% think the country is headed in the right direction, according to Rasmussen's latest poll.
Peter A. Grant writes for USAGold.com, and in the January 23rd update stated in response to the Bank of Japan's monetary easing: "[E]asier monetary policy is the path of least resistance, requiring little effort (save a little arm twisting) on the part of politicians. In fact, it frequently allows those politicians to avoid — or perhaps more accurately forestall — painful fiscal reforms."
Neither Congress nor the executive branch has come up with a workable budget for the United States in four years. "We have operated the ship of state with continuing budget resolutions and raising the debt ceiling," Bill Heid, founder of Off The Grid News says. "No meaningful budget reforms have been suggested or implemented. The Senate hasn't even come to the table with a budget in four years. As a country, we cannot sustain this type of debt and non-action indefinitely."
As consumer confidence in monetary systems and financial assets across the globe wane, people are turning more and more to precious metals.
Off The Grid News' financial columnist, Mary Holloway Love, writes in her January column, "2013 is shaping up to be a very tumultuous year financially. The United States is being threatened with another credit downgrade due to our fiscal problems, as we do not have the runaway spending addressed in a meaningful manner. Most precious metals analysts and experts expect to see gold, silver, and platinum hit the stratosphere this year…."
But investing in precious metals and treating gold like any other commodity is dangerous. According to Off The Grid News' report, Hide Your Gold, "Precious metals, especially gold, are absolutely unique and require special care, unlike any other valuable you've ever had. There are more threats to gold than you might initially imagine and these threats don't always come from directions that you would expect. In fact, your gold might not be safe even if you have it stored in a safe, hidden it from view, kept it securely locked, and even hidden the key."
As currencies all over the world continue to teeter on unsustainable financial systems, http://www.usagold.com/cpm/goldhelp.html [savvy investors are looking at the precious metals markets __title__ USAGold.com] to not only supplement their investment portfolios, but to give them real money to sustain themselves with should a global or country-wide economic collapse occur.
"This complimentary report gives you practical advice on managing your gold through different scenarios," Heid concludes. "We're pleased to offer our customers yet another way to weather the financial storms of the tumultuous times we live in."
For you copy of Off The Grid News' complimentary report, Hide Your Gold, please go to http://www.hideyourgold.com/?utm_source=PR&utm_medium=PR&utm_campaign=PR12413.