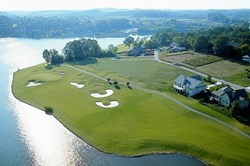 Best Tennessee Community of the Year - Tellico Village
Knoxville, Tenn. (PRWEB) January 25, 2013
Real Estate Scorecard, a leader in online real estate reviews, announces the 2013 Bliss Award Winner for Best Tennessee Community of the Year, Tellico Village.
When Real Estate Scorecard first researched neighborhoods in the Tellico Lake area, they noted the Great Smoky Mountains adding unprecedented natural beauty to the region. It was late in the fall and snow was covering the mountain tops just above the fall foliage. Tellico Village is an established master planned community in Eastern Tennessee bordering 16,000 acre Tellico Lake. Tellico Lake is a navigable lake to downtown Knoxville or south, to the Gulf of Mexico. Boating Life Magazine named Tellico Lake as one of the Best Places to Boat in the U.S.
Baby Boomers are drawn to Eastern Tennessee for its low cost of living and mild four season weather. After they realize Tellico Village offers both, the question remains will this spread out neighborhood be easy to make new friends? The proof is in the pudding. Property owner scorecards tell us they're happy here and "it's a great place to live".
Tellico Village amenities include three championship golf courses, a yacht club, new 26,000 square foot wellness center, tennis facilities and more. What makes Tellico Village unique to us is that monthly membership dues are paid a la carte. If you don't use it, you don't pay for it. HOA fees have gone up slightly in the past two years causing a little scuttle butt from long time residents, however HOA fees are still less than $102 a month.
If you're searching for where to retire in Tennessee, Real Estate Scorecard considers Tellico Village to be one of the best master planned communities in Eastern Tennessee with homes beginning in the high $200k price range.
To see all of Real Estate Scorecard's 2013 Bliss Award winners, visit
http://realestatescorecard.com/breaking-community-news/best-community-of-the-year-2013-bliss-awards
About Real Estate Scorecard
Real Estate Scorecard is an unbiased real estate review website providing in depth information about the best master planned communities in Florida, Georgia, North Carolina, South Carolina and Tennessee, all in an effort to help people discover where to retire. Website address: http://realestatescorecard.com