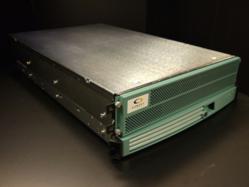 Using the Convey systems, we are seeing up to 15x acceleration on our computationally intense BWA runs. -- Dr. Mario Caccamo, Deputy Director of TGAC
Richardson, TX (PRWEB) January 29, 2013
Convey Computer today announced that The Genome Analysis Center (TGAC), one of seven institutes that receives strategic funding from the U.K.'s Biotechnology and Biological Sciences Research Council (BBSRC), has deployed two Convey HC-1ex hybrid-core systems for advanced genomics research. TGAC, based in the U.K., is an aggressive adopter of advanced sequencing and IT technology.
The two Convey HC-1ex systems are the latest addition to TGAC's powerful computing infrastructure. By installing hybrid-core Convey HC-1ex systems, TGAC expanded their cluster and ccNUMA-based HPC environment to include leading edge heterogeneous computing capabilities.
"We need to analyze data quickly and precisely, which takes time on clusters," explained Dr. Mario Caccamo, Deputy Director of TGAC. "We offloaded some of our sequence alignment demand to the Convey hybrid-core systems, because they can handle the alignment algorithms much more efficiently. Using the Convey systems, we are seeing up to 15x acceleration on our computationally intense BWA(1) runs."
TGAC was part of an international team that recently demonstrated next-generation sequencing could be used effectively to fine map genes in polyploidy wheat. TGAC will leverage Convey's architecture to accelerate computationally challenging jobs, such as resequencing alignment for wheat and other polyploidy species.
"The initial performance jump is a major improvement," continued Dr. Caccamo. "We expect to achieve even better performance as we gain experience using the Convey platform."
Convey's hybrid-core architecture pairs classic Intel® x86 microprocessors with a coprocessor comprised of FPGAs. Particular algorithms—BWA-based alignment, for example—are optimized and translated into code that's loadable onto the coprocessor at runtime.
"We're pleased to be working with BBSRC and TGAC in support of their mission to advance bioscience," said Dr. George Vacek, Director of Convey Computer's Life Sciences business unit. "It's increasingly clear more than one HPC approach is needed to efficiently tackle the full scope of genomics research. Hybrid-core computing has a major role to play, because it accelerates many key bioinformatics applications in an easy to use and economical way."
About Convey Computer Corporation
Based in Richardson, Texas, Convey Computer breaks power, performance and programmability barriers with the world's first hybrid-core computer—a system that marries the low cost and simple programming model of a commodity system with the performance of a customized hardware architecture. Using the Convey hybrid-core systems, customers worldwide in industries such as life sciences, research, advanced analytics, and the government/defense are enjoying increased application performance and lower costs of ownership. http://www.conveycomputer.com
(1) Burrows-Wheeler Aligner (BWA) is an efficient program that aligns relatively short nucleotide sequences against a long reference sequence such as the human genome.
For More Information:
Contact Alison Golan, Convey Public Relations, at +1 904.230.3369 or email agolan(at)conveycomputer(dot)com.
All trademarks are the property of their respective owner. ™ and ® denote registered trademarks in the United States and other countries.