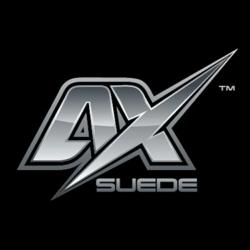 AX Suede Slim-Fleece WP Pack features the softest all-in-one waterproof glove package on the market.
Portsmouth, NH (PRWEB) January 30, 2013
AX Suede™ materials have begun revolutionizing gloves for the top brands in almost every glove category, from work to moto-cross to tactical gloves. Now AX Suede is simplifying the manufacturing process by offering all-in-one performance packages. AX Suede Slim-Fleece WP Pack features the softest waterproof glove package on the market. AX Suede's goal is to simplify design and offer technical material solutions that minimize labor dependency and offer a cost advantage to brands.
AX Suede™ Slim-Fleece WP Pack is a laminated package featuring our softest, most dexterous suede, a waterproof membrane and warm fleece insulation backer. This all-in-one package allows manufacturers to immediately cut and sew, rather than laminating several materials to make a working material package.
Surface layer: AX Suede Slim + DWR

AX Suede Slim + DWR (Durable Water Resistance) features a double-helix fiber suede construction that eliminates pilling.
The proprietary substrate construction keeps the material softer and is 100% solvent free, a first of its kind for suede palms.
Middle Layer: Waterproof (WP) Membrane

A full protection certified waterproof membrane is the second water barrier – passing over 10,000+mm H20/min.
Back Layer: Fleece Insulation

The backside of this all-in-one cold weather package is a fleece insulation layer adding to the comfort and warmth of the entire package.
This 1.3mm package offers waterproof protection and insulation without sacrificing mobility for work, bike, outdoor and any other cold weather glove.
About AX Suede™
AX Suede is a range of materials specifically developed for glove, electronic and apparel applications. Manufactured in Korea and Taiwan, AX Suede provides global sales and customer support.
AX Suede™ is a product of Matmarket Inc. with offices in the United States, China and Korea.