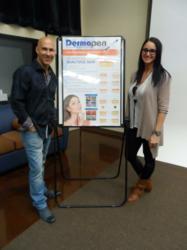 "We at NeedleLogics feel Derma Pen, LLC is not only the market leader for Micro Needling, but has the same commitment to furthering the science, education and certification in CIT as we do," states Mark McGillis.
Salt Lake City, Utah (PRWEB) January 31, 2013
Derma Pen, LLC Finalizes Agreement with Micro Needling Training and Certification Company NeedleLogics, LLC.
DERMA PEN, LLC of Salt Lake City, Utah, the market leader for manufacturing and distribution of the Dermapen micro needling device in the world announces a new partnership with another Salt Lake CIty company, NeedleLogics, LLC.
NeedleLogics is a micro needling training and certification curriculum that is being marketed and licensed to nationwide Aesthetic Schools. "We at NeedleLogics feel Dermapen is not only the market leader for Micro Needling devices, but has the same commitment to furthering the science, education and certification in Collagen Induction Therapy (CIT). We are more than excited to be working with Derma Pen, LLC, the market leader in all things micro needling," says Mark McGillis, Director at NeedleLogics.
Needlelogics introduces the only approved certification course recognized by the Dermapen Micro Needling System. The "NeedleLogics for Dermapen Certification" Program is a revolutionary training guide and instructional protocol designed for medical and aesthetic professionals who will be performing and overseeing the Dermapen micro needling treatments.
Micro Needling has long been one of the most effective methods of producing significant collagen remodeling for the purpose of removing acne and wound scars, reducing fine lines and wrinkles, for the treatment of stretch marks, and reducing pore size. The Dermapen device by Dermapen, LLC has become the household name in automated skin micro needling in the global market. The Dermapen treatment harnesses the body's own wound healing response within the dermal layers of the skin. The Dermapen utilizes the science of collagen induction therapy (CIT) or collagen "stimulation" therapy by introducing thousands of tiny micro injuries to the dermal and sub-dermal layers of the skin. These micro injuries create micro channels, which will immediately cause the skin to start a restorative and repair process, which involves a cascade of events including increases in new collagen formation. These tiny micro channels also increase the potential for trans-delivery of cosmeceuticals. As the skin heals itself, it also corrects many skin imperfections. The results are improved skin appearance, elasticity, texture, color, and tightness.
"As the premier brand leader in skin micro needling technology with unmatched market exposure, ongoing research, and practitioner support, Derma Pen, LLC is proud to introduce the NeedleLogics partnership, with programs to assist in instructional, practical and marketing solutions to utilize the science of collagen induction therapy," says Mike Morgan, CEO of Derma Pen, LLC.
About Dermapen:
Derma Pen, LLC is a cosmetic marketing company that trademarks, brands, and distributes cosmetic equipment. Dermapen, with its U.S. launch in 2011, is the world's most advanced skin micro-needling device. The award-winning Dermapen device and its products are sold directly to plastic surgeon, dermatologist, physician and medical spa markets. The device has been designed and manufactured with the cumulative effort of leading technicians and experts in multiple countries.
The market segments are defined as licensed aestheticians, medical spas and retreats, dermatologist offices and related cosmetic surgeon practices. According to new market research, the global market for cosmetic surgery services will reach the $40 billion mark by the year 2013, up from $31.7 billion in 2008, for a compound annual growth rate of 5.2%. In another study, the market for cosmetic surgery, facial aesthetics and medical laser devices is expected to almost double in size, exceeding $3 billion by 2017. Aesthetic laser and light therapy markets for skin resurfacing, hair removal and laser lipolysis are the fastest growing segments. In addition, market analysis provides a well-defined and unanswered need in stretch mark therapy. The new and innovative design of the Dermapen has been shown to answer the needs for the successful treatment of this problem.
For more information about Dermapen, please call (800) 981-5402 , email to Info(at)Dermapen(dot)com or visit us online at http://www.Dermapen.com.