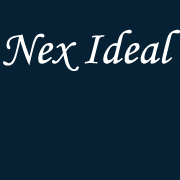 "Invest in products that change the world"
Detroit, Michigan (PRWEB) January 30, 2013
Nexideal.com has just launched and their main focus is making the invention process more open. In the past product development has been so hard to do unless a person has resources and money. Nexideal.com is making it so that everyone with an idea can now develop that idea for only $10. They take the ideas from people who submit them on their site and use social product development as a way to determine if they should continue the idea or go back to the drawing board.
So to get started just go to nexideal.com and submit an idea and whatever else that needs to go with it. Once submitted the idea goes through the process called Pipe Line. The main objective is to get the idea social by launching it on their site and get people to vote on the idea within their community. If the idea get's enough votes then the Nex Ideal team sounds off on it by giving their opinion. If everything passes then you become closer to being an inventor and having your idea become worldwide.
The Detroit based startup is looking to expand after finding out that their company is in really high demand. After the company released their first press release in just a few days over ten thousand people crowed the site and crashed the company servers. The company believes in its concept, but needs the backing of an investor and a skilled team to continue to service its clients and customers. In just a matter of hours hundreds of people submitted ideas and the company representatives said that they would like to begin the first stage of brining these ideas to the marketplace.
In a recent interview with NexIdeal.com CEO, D'Andre Ealy he seemed very happy about where the Nex Ideal team has been able to take the company so far with just the limited resources and small team. He strongly believes that the company could easily begin to make millions of dollars in profit once he and his team gets the backing from an investor and begins to put together a team of web developers who can help take the platform to the next level.
The company is looking to raise about $250,0000 in cash and hire two-three web developers who are really skilled in Rudy, java, and other development platforms. The CEO made it clear that he is looking for people who want to join the team in exchange for seats on the board of directors and a percent of the ownership in the company.