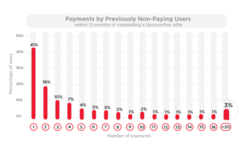 "Value-exchange advertising has a powerful impact on our business and we anticipate that we'll continue to see our conversion rates increase. Our partnership with SponsorPay has positioned us perfectly to capitalize on the growing market opportunity."
SAN FRANCISCO (PRWEB) January 29, 2013
SponsorPay, the leading value-exchange advertising company, announced today that online games company Gameforge, a key publisher partner, has experienced impressive conversion rates using SponsorPay's offer-based monetization platform.
In a study conducted by Gameforge, 16.4 percent of non-paying users who completed at least one offer from SponsorPay converted to paying users within a 12-month period. Of the converted users, 3 percent purchased virtual currency or premium content more than 20 times in the same time span.
"Value-exchange advertising has a powerful impact on our business and we anticipate that we'll continue to see our conversion rates increase," said Andreas Schulze, Payment Product Director at Gameforge Productions. "The industry is absolutely moving in this direction and our partnership with SponsorPay has positioned us perfectly to capitalize on the growing market opportunity."
The impressive results showcase the value of SponsorPay's advertising technology that enables users to sample virtual currency or premium content for free. The unique nature of the value-exchange format ensures that users make traditional, real-money payments, in addition to engaging with ads. SponsorPay's platform is the catalyst that drives a large percentage of these users to convert to high-paying customers.
"We are eager to build on this recent success, and we see a tremendous opportunity to change the way advertisers and publishers alike think about advertising," said Janis Zech, CRO and co-founder of SponsorPay. "Driving engagement and conversion is key to our success, and value-exchange advertising continues to prove itself as one of the most powerful means of reaching audiences – particularly in gaming."
###
About SponsorPay
SponsorPay is a value-exchange advertising platform providing high-quality brand engagement for advertisers and driving user acquisition as well as content monetization for publishers.
Our innovative BrandEngageTM solution offers rich user-initiated experiences for premium brands including social video and engagement campaigns. Our platform also delivers industry-leading results on direct response campaigns for performance advertisers. Simultaneously, we enable publishers and developers of social, mobile and online games and apps to monetize non-paying customers as well as acquire loyal users in a cost-effective manner
We work with thousands of partners, including leading publishers Zynga, Electronic Arts, Ubisoft, Outfit7 and Animoca, as well as renowned advertisers Coca-Cola, Samsung, Microsoft, McDonald's and Volkswagen, across platforms such as Facebook, iOS and Android.
Investors include Team Europe, Hasso Plattner Ventures, Kite Ventures and Nokia Growth Partners. The company is headquartered in Berlin with offices in San Francisco, Los Angeles, New York, London, Paris, Istanbul and Tokyo.
For more information, visit http://www.SponsorPay.com or follow @SponsorPay on Twitter.
About Gameforge
With an impressive portfolio of 20 titles and over 380 million registered players, Gameforge is one of the leading providers of Massively Multiplayer Online Games (MMOGs) in the western hemisphere. Based in Karlsruhe, the internationally active group of companies offers games in more than 50 languages. Their portfolio contains client based games such as AION, TERA, Metin2 (Europe's most successful MMOG), 4Story, Runes of Magic, Elsword, Wizard101 and RaiderZ. They also offer browser based online games such as the classic OGame, the award-winning Ikariam and mobile games. The company employs around 600 employees at its locations in Karlsruhe and Berlin.