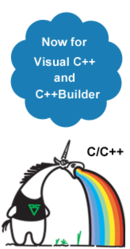 PVS-Studio is a static code analyzer for C/C++ with a simple licensing and pricing policies which is easy to install and use without need to deploy a complex maintenance environment.
Tula, Russia (PRWEB) January 31, 2013
OOO "Program Verification Systems" (Co Ltd), Russia-based vendor of software for C++ developers, announced public availability of the new major version of their flagship C++ static analysis solution PVS-Studio on Jan, 31, 2013.
PVS-Studio is a static code analyzer for C/C++ that integrates into Visual C++ and C++Builder.
Main feature of the new version is integration into Embarcadero RAD Studio which includes C++ Builder. Also PVS-Studio support of Windows Phone 8 and Windows Design Language (ex-Metro) C++/CX projects designed to be distributed via Windows Store (which can be developed in Visual Studio 2012).
Evgeniy Ryzhkov, CEO of OOO "Program Verification Systems" (Co Ltd) comments: "During development of previous versions of PVS-Studio, now known as 4.x series, we mostly concentrated on the number of useful errors that PVS-Studio could detect, and now this number exceeds two hundreds. During 5.00 release cycle we wanted to make it available to be used with a broader range of projects. This naturally led us to decision to support Microsoft's brand new platforms in Visual Studio 2012 – Windows Phone 8 and Windows 8 (Mirosoft's C++/CX language variation). Also we implemented support of C++ Builder which is available as a part of Embarcadero RAD Studio and separately. Now all recent versions are supported."
For C++ Builder full range of diagnostics is supported, including 64-bit portability diagnostics which would be very useful for the users that have already adopted, or are planning to adopt recently released C++ Builder XE3 Update1 that is the first version that includes 64-bit compiler.
As usually, few new diagnostics were added that various common programming errors.
Full list of supported IDE:

Microsoft Visual Studio 2012, 2010, 2008, 2005 (except Express editions);
Embarcadero RAD Studio XE3 Update 1, XE3, XE2.
You might download the newest version from this location: http://www.viva64.com/en/pvs-studio-download/
PVS-Studio product page: http://www.viva64.com/en/pvs-studio/