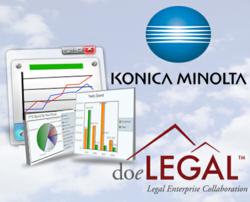 Now that we're up and running, ASCENT™ is a game changer that continues to evolve to fit our changing needs.
Wilmington, DE (PRWEB) January 30, 2013
doeLEGAL, LLC., the leading provider of collaborative electronic invoicing and legal spend management solutions, today announced that it has contracted with Konica Minolta Business Solutions U.S.A., Inc. to support a new legal matter and legal spend initiative that will enhance KONICA MINOLTA's ability to collaboratively manage its complex, dispersed, and growing legal department.
Konica Minolta Business Solutions U.S.A., Inc. (KONICA MINOLTA) is a leader in advanced document management technologies, application solutions and IT Services from the desktop to the print shop. The company is focused on delivering complete solutions that include the manufacturing, servicing and sales of office systems, digital presses, production print systems, printers, vertical application solutions, and related services and supplies.
ASCENT™, the most advanced collaborative legal matter and spend management product of its kind in use among the Fortune® Global 500, will process electronic invoices from law firms and deliver them to KONICA MINOLTA's legal department for automated workflow handling, spend analysis, and reporting. Discreet access to key functionality, reports, and analytics will be given to business unit managers and management allowing them to not only understand the progress of legal work in real-time, but to collaborate with legal, law firms, and other involved business units throughout the life of a matter or project.
KONICA MINOLTA had very clear and defined criteria of what they needed a legal service provider to deliver in order to accomplish their legal department's Legal Spend Management initiative. ASCENT™ was chosen for its flexibility, ease of use, robust reporting capability, and predictable value-driven pricing model.
"We chose doeLEGAL after a long research process that included in-depth demonstrations of their offering," stated Brian Cupka, Senior VP & General Counsel. "We were determined to make sure we saw the benefits and limitations of the service before signing. This is a very strategic and high profile investment by the legal department so we took our time to make sure we got it right. ASCENT™ provides the most flexible suite of Legal Enterprise Collaboration (LEC) functionality for us, including secure collaboration within the department and with outside counsel.
"Given how busy we are, it was also important to integrate with key enterprise business systems without significant impact to our department or our IT Shared Services team. doeLEGAL was incredibly flexible in working with us to make that happen. Now that we're up and running, ASCENT™ is a game changer that continues to evolve to fit our changing needs and positions us to work more collaboratively and efficiently for years to come."
Unlike other legal spend and matter management platforms, ASCENT™ configures precisely to support the unique preferences of each individual user set within the security & business process requirements of the legal department as a whole. "Because of ASCENT's™ configurability the system matches the exact needs of each user (the GC, billing administrators, outside counsel, paralegals, business users, etc.) rather than users having to change their process to match the system." said Tom Russo, doeLEGAL's CEO.
Tom continues,…"ASCENT's focus on Legal Enterprise Collaboration (LEC) provides users with a single collaborative, real-time and interactive environment which helps increase the team's efficiency. The system's reporting and analytic tools provide transparency that helps users make better decisions related to Budgets, AFAs, Strategic Sourcing, and Risk Management."
About doeLEGAL
doeLEGAL is a cutting edge provider and innovator of cloud-based legal enterprise collaboration solutions for the legal industry. Our suite of end-to-end collaborative software and services for corporate legal departments and law firms includes electronic invoice processing, legal spend and matter management, litigation support and electronic discovery. doeLEGAL serves small, medium and large Global Fortune 500 corporate legal departments as well as law firms in more than 35 countries. Established over four decades ago, doeLEGAL has built an impeccable reputation and continues its mission to provide state-of-the-art technology offered at an excellent price point to clients who value and depend on exceptional service. Visit doeLEGAL at http://www.doeLEGAL.com to learn more.
Media Inquires:
Scott Miller
Marketing Director
doeLEGAL, LLC
302-798-7500
http://www.doelegal.com