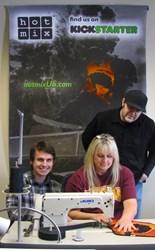 Not only is 'made in the USA' a good story, it is a competitive advantage!
Scottsdale, Ariz. (PRWEB) January 29, 2013
Tempe, Ariz.-based action sports brand hotmix™ is helping bring manufacturing back to the U.S. by launching the 4x4x4 Project on crowdfunding site Kickstarter. The project revolves around creating four new products with four artists in four weeks, all manufactured here in the U.S.
The hotmix™ brand was founded in late 2012 with a core belief in the competitive advantages of manufacturing locally and supporting U.S. artists. Using new technologies, smart sourcing, and modern manufacturing techniques, the brand offers tremendous flexibility and speed-to-market.
The founders, Matt Boyd and Cynthia Valenzuela, started parent company KVZ Sports Inc. in 2010. It serves the resort and promotional gear markets, where they have been able to build a following with more than 50 clients in six states. They are making their first foray into the retail market with hotmix™.
The Kickstarter campaign (http://kck.st/XtuZ2W) features the hotmix™ brand and aims to raise $30,000 by Feb. 20. The funds will be used to carry out the first full production run.
"We are excited about launching hotmix™ on Kickstarter with the 4x4x4 Project," Boyd said. "Our action sports gear is packed full of great features, including cool technologies such as Outlast® thermo-regulating fabrics. We are also dedicated to creating new jobs – our stuff isn't just designed here, it's made here."
At a time when almost all apparel sold in the U.S. is manufactured overseas, the company prides itself on producing action sports gear locally. It also is implementing a pay-some-back strategy to reward artists with royalties on product sales above the routine flat fee.
"By utilizing technological advances in the industry, we can compete effectively," Valenzuela said. "This means smaller order minimums and a speed-to-market that simply is not possible with an imported product."
Boyd added, "By localizing our manufacturing efforts, we can complete much smaller runs efficiently. This makes teaming up with U.S.- based artists early in the production process a realistic proposition. Not only is 'made in the USA' a good story, it is a competitive advantage!"
KVZ is a two-time winner of the Edson Student Entrepreneur Initiative at Arizona State University and has been accepted into the Arizona Commerce Authority's State Trade and Export Promotion (STEP) program, which helps Arizona small businesses enter export markets. They are also one of the first entrants into the MAC6 incubator and business accelerator program in Tempe.
About hotmix™ (http://www.hotmixus.com)
KVZ/hotmix™ is a fully integrated design and manufacturing company that provides apparel products on demand to action sports clients who are looking for unique ways to promote their destination or brand and lower their inventory costs. Unlike our competitors, we manufacture our customized products here in the United States with much shorter lead times and the ability to deliver mid-season re-orders. Stocking inventory for them is no longer a "one-shot-deal" that needs to be finalized pre-season. In short, we give them a lot more flexibility in the types and quantities of products they need to carry, which in turn saves them money.
About Edson Student Entrepreneur Initiative (http://edson.asu.edu)
The Edson Student Entrepreneur Initiative provides funding, office space, and guidance to teams of students within all university disciplines. This accelerator gives student entrepreneurs the opportunity to develop their innovative ideas and launch viable businesses. As an integral program of ASU Venture Catalyst, students in the Edson accelerator have access to seasoned entrepreneurs, industry mentors, and other Catalyst programs that enable them to advance their enterprises.
About the MAC6 Incubator (http://www.mac6.com/)
The MAC6 collective is made up of early-stage businesses, partners and members of our community who champion capitalism as a force for good. Conscious Capitalism® challenges companies to embrace purpose—not just profit—as a long-term business strategy. We're challenging early-stage businesses to do the same. We're a visionary business incubator putting young Conscious companies at the center of a year-long experience that will change their course. Surrounded by a state-of-the-art environment and teams of financial and business-planning experts, our Incubees develop into sustainable businesses that will impact the world for the better.