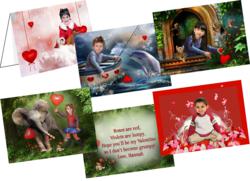 "The children were so enamored with their personalized t shirts that they wouldn't take them off"
-Margo Redfern, flattenme CEO
Truckee, CA (PRWEB) January 30, 2013
flattenme.com, that popular online place to find personalized storybooks, water bottles and journals, offers some innovative gifting ideas for Valentine's Day. This special holiday is no longer a venue belonging exclusively to lovers. Grandparents enjoy buying gifts and cards for their grandkids too.
Now the kids can send one back with their picture on the front for a very personalized flattenme Valentine's Day card. There are a selection of delightful designs, each one more precious than the other.
Gifts used to be routine, but flattenme.com stepped up to the plate and delivered a personalized home run. Online shoppers will discover an array of unique gifts for the little Valentine. What children's personalized gift can a grammy or a favorite aunt send that has the WOW factor? A child will delight in seeing their own face on a personalized book. Does a little boy love skateboarding? Now he can see himself riding a cool skateboard in a personalized writing journal. What little girl does not love horses? Now she can see herself sitting in the saddle on a beautiful horse in her personalized wall art. Other personalized children's gifts include a variety of storybooks featuring themselves as the star. There is still time to order a personalized book or Valentine's Day cards for February 14th.
As of February 15th picture perfect t-shirts can be ordered at flattenme.com as well. They are the latest brainchild of Margo Redfern, the founder of flattenme. She was seen most recently at the prestigious 'by invitation only' pre-Golden Globe Awards event, the Boom Boom Room. Redfern and other elite purveyors of children's gifts shared their latest products to celebrities in Hollywood on January 14th and 15th. There, celebs such as Ian Ziering of 90210, Samantha Harris of Dancing with the Stars, and Miss J from America's Top Model were spotted ordering a children's personalized storybook and the new personalized t-shirts. These children's personalized t-shirts will be available to the general public in mid-February. Your little one can wear what the stars' kids wear.
Upon testing the t-shirts on her own children and their neighborhood friends, Redfern reported, "They were so enamored, they refused to take them off." These personalized children's gifts seem destined to be the latest trend among children everywhere. Parents are purchasing either a personalized book or water bottle for them now and exclusive celeb-only orders are already being placed for t-shirts.
About flattenme
The company was founded in 2007 with a vision to provide quality educational and entertaining personalized children's books and gifts direct to the consumer. flattenme magically uses the hero's face and name throughout their personalized gifts for both children and adults in a way that is not done by any other company. flattenme products ship worldwide and are produced in the USA.
flattenme is located at 10550 Filoli Dr. in Truckee, California. For further information, you can visit the website at http://www.flattenme.com.