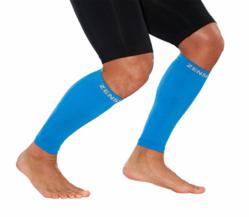 Zensah Compression Leg Sleeves are the best selling compression leg sleeves in running specialty
Miami, FL (PRWEB) January 30, 2013
According to Leisure Trends Group Specialty Running Retail TRAK™ YTD Data, Zensah® is the number one selling compression leg sleeve for running specialty.
Leisure Trends Group (LTG) is a leading market research firm, measuring trends and information about prominent markets like outdoor, cycling, and running specialty. Their data provides insight into standout items in the running industry, based on data from point of sale at retail.
LTG's most recent year to date statistics state Zensah Compression Apparel as the number one selling compression leg sleeve brand in the USA for running specialty. Zensah® has been the best-selling compression leg sleeve for four consecutive years (2009-2012).
Compression apparel stabilizes the muscles to prevent injuries and increase oxygenated blood flow, which can expedite recovery. Zensah's Compression Leg Sleeves are beneficial to runners by helping them stay injury free and recover faster. In addition to their top selling leg sleeves, Zensah® is recognized among athletes for their compression socks, compression ankle support, and seamless sports bra.
Zensah® Compression Products are made in the United States and Italy of the highest quality fabrics. A seamless design ensures that Zensah® products are not only made to last, but also the most comfortable fitness accessories and apparel available.
Parker Robinson, spokesperson for Zensah, says, "The new year always comes with resolutions, especially for fitness and health. We are very honored and excited to have the number one selling leg sleeves in the US. Our goal as a company is to help the runner, triathlete, cyclist, spinner, yogi, crossfitter in you to achieve those resolutions. Our compression leg sleeves are really one the best tools to do so."
With the start of 2013, athletes are working to achieve the fitness goals they have set for the year. Zensah's best-selling compression leg sleeves are the perfect item for runners to use during training, racing, and recovery in order to achieve new years goals.
About Zensah: Zensah® is a Miami-based company, specializing in sports compression apparel. Their seamless compression products are praised by athletes and fitness enthusiasts, including runners, cyclists, and triathletes. Zensah® offers compression products for performance and recovery. According to Leisure Trends Group Specialty Running RetailTRAK™, Zensah® has the number one selling Compression Leg Sleeves in the US for Running Specialty.
Suzanne Kerpel
marketing(at)zensah(dot)com
ZENSAH COMPRESSION APPAREL
(305) 935-4619