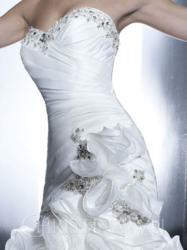 The true victims are the consumers.
(PRWEB) January 31, 2013
Bridal designer Christina Wu announced that it is pleased with recent Federal Court rulings restraining Web sites allegedly involved in the sale of counterfeit apparel in the formalwear industry. On January 10, 2013, The U.S. District Court for the District of New Jersey entered a Preliminary Injunction enjoining the owners of a first group of specific Internet Web sites from selling counterfeit products and from using their sites to market and sell counterfeit apparel. The lawsuit (case number 3:2012cv07079) filed on November 13, 2012, by the American Bridal & Prom Industry Association (ABPIA) et al aims to stop foreign companies from flooding the market with counterfeit bridal gowns and prom dresses, bypassing their American partners and going direct to consumers.
Christina Wu is a member and supporter of the ABPIA, a non-profit, legal federally recognized organization. Concluding that the ABPIA had demonstrated a compelling case, the Court's Preliminary Injunction also froze assets of the defendant Web site owners, pending a final decision by the Court on the appropriate relief to be awarded to the ABPIA and its members. PayPal recovered $60,000 dollars enforcing this court order won by the efforts of ABPIA, cutting off funds to pirate Web sites.
"The true victims are the consumers," urged Steve Lang, president of the ABPIA. "More times than not, there is no recourse for them when they try to contact the source of the dress," he added.
Thousands of additional Web sites soon may be added to the lawsuit through a streamlined process approved by the court. Christina Wu and the ABPIA will continue efforts to bring awareness to all consumers, retailers, and members of formalwear industry and the general public on the harm that the marketing and sale of counterfeit products can bring to consumers and fair competition. Christina Wu wedding gowns can be purchased only from authorized retailers. To locate an authorized retailer or browse wedding dresses, click the "Find A Store" link at http://www.christinawu.net.