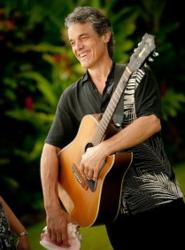 "Our Deluxe and Ultimate Wedding Plans include a musician who plays a guitar or ukulele."
Jana Rothenberg
Kahalui, Maui Hawaii (PRWEB) January 31, 2013
Hawaiian Style Weddings, a leading Full Service Destination Wedding Planner producing weddings on Maui, Oahu, Kauai and on the Big Island of Hawaii, is pleased to welcome musician Tim O'Hara as one of their talented musical vendors.
"Our Deluxe and Ultimate Wedding Plans include a musician who plays a guitar or ukulele. We can add a musician or any number of other customized services to any wedding plan," reports Jana Rothenberg, Wedding Director at Hawaiian Style Weddings. An important part of planning a destination wedding that a wedding couple can rely on experts to suggest the most appropriate vendors. "We have hundreds of the most experienced vendors that we team together so that our couples have the best talent possible for their romantic, beautiful, affordable and stress-free wedding process. Tim O'Hara may be new to our team but he's not new to the music scene. We are pleased to have him joining us."
O'Hara has been playing for over 34 years and on Maui for over 25 years. Offering a broad assortment of music genres O'Hara includes traditional Hawaiian slack key, favorite religious and golden oldie themes, as well as Jawaiian Reggae, contemporary and jazz beats. O'Hara is sure to be a popular wedding crowd pleaser. His play list includes everything from Brother Iz, Eric Clapton, Elvis and Bette Midler to Mendelsohn and Schubert. O'Hara is a talented vocalist, string and keyboard musician who will learn or arrange any song that a couple might want for their wedding day and reception dinner.
As well as being a 5-Star solo performer, O'Hara is also a bandleader of the Espresso Dance Band Hawaii. Changing their costumes often, O'Hara's band has been known to change from a white tuxedo into surfing board shorts throughout the course of the entertainment evening. The band morphs according to the wedding party desires from a core trio to a 7 member band that includes three female vocalists, three male vocalists playing keyboards/guitars and drum rhythmus. Saxophone, trumpet, trombone and wind instrument players often join the core band widening the band's sound and musical variety.
O'Hara's virtuosity does not stop at being a solo performer or bandleader. He also provides expert DJ services from his computer driven digital sound system that is loaded with over 25 thousand tunes.
Rothenberg continued, "We are pleased to add Tim O'Hara's versatility as a solo guitarist and ukulele player to our beach wedding musical talents. O'Hara has an impressive play list with thousands of songs plus, O'Hara plays on all islands. His availability insures any wedding request is met."
For more information about wedding and reception music, contact Jana Rothenberg at 1-888-744-5338 at Hawaiian Style Weddings.