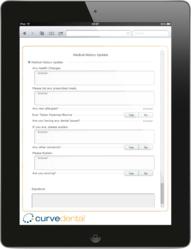 Storyline helps a practice convert their existing paper forms into a digital form.
Orem, UT (PRWEB) January 31, 2013
Curve Dental, developers of Web-based dental software, announced the release of Storyline, a platform within the company's software that helps customers create custom patient forms, which can be completed by patients using an Apple or Android tablet.
"Storyline helps our customers quickly gather important information from their patients," said Ian Zipursky, CEO of Curve Dental. "Medical history, insurance information, or even a patient satisfaction survey can be quickly built and then accessed by the patient in the reception area using an Apple or Android tablet. While patients will be impressed by the practice's cutting edge use of technology, our customers can decrease the amount of paper forms in their practice, which saves money, and gather and process patient information more quickly, which saves time."
Storyline helps a practice convert their existing paper forms into a digital form. When patients arrive for their appointments the form can be completed on a tablet, like an Apple iPad or Samsung Galaxy. When the patient has answered all the questions on the form the information is submitted back to Curve Dental's patient record management system, Curve Hero. Once the information is submitted, the dental team can use it to complete the patient registration process or add new data to an existing patient record. All Curve Dental customers have access to the Storyline platform at no additional charge.
About Curve Dental, Inc.
Founded in 2004, Curve Dental provides web-based dental software and related services to dental practices within the United States and Canada. The company is privately-held, with offices in Orem, Utah and Calgary, Alberta. The company strives to make dental software less about computers and more about the user experience. Their creative thinking can be seen in the design of their software, that's easy to use and built only for the web. Dentists can call 888-910-4376 or visit http://www.curvedental.com for more information.