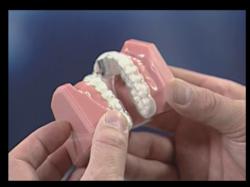 "I've been a strong advocate of getting dentists more involved in sleep medicine and after moving to Houston started the SEC that provides continuing education credits for the dentist and physician on sleep disorders in a team approach," said Dr. Simmons.
Houston, Texas (PRWEB) January 31, 2013
Obstructive sleep apnea (OSA) is a medical condition where repeated narrowing of the throat occurs during sleep which either partially or completely blocks the airway. This blockage can repeatedly stop breathing for many that lasts 20 seconds or longer. OSA can occur at any age and it is estimated that more than 12 million Americans have this disorder. According to the American Academy of Sleep Medicine about 80 to 90 percent of adults with OSA remain undiagnosed.
Many physicians are not recognizing the problem leaving so many untreated. This has created a niche for those dentists who may recognize the symptoms of OSA and step-in to fill this void. However, many dentists are now providing services to patients for OSA, a medical condition, which is technically outside of the scope of dentistry. Recognizing this trend, the Texas State Board of Dental Examiners (TSBDE) is evaluating the situation to determine a formal position on this topic. Jerald H. Simmons, MD, who is triple board-certified by the American Board of Sleep Medicine, American Board of Psychiatry and Neurology and the American Board of Clinical Neurophysiology presented to the dental board his expert opinion at their January 25th Austin meeting.
"I have a long history of working collaboratively with dental colleagues dating back to the mid 1990's while I was an Assistant Professor of Neurology at UCLA. I've been a strong advocate of getting dentists more involved in sleep and after moving to Houston I've continued this collaborative effort as the founding director of a 501 (c) 3 non profit, the Sleep Education Consortium (SEC) that provides continuing education credits for the dentist and physician on sleep disorders. Our 9th annual two-day conference is February 8-9, 2013, in Houston and provides continuing medical education credits for the physician alongside the dentist," stated Dr. Simmons. "I have recognized how my partnership with dentists allows me to provide a more comprehensive treatment approach to my patients. Ever since my training in sleep at Stanford University I have recognized the deficiency that exists in educating the medical community on sleep disorders, which has a devastating impact on so many other aspects of health."
Dr. Simmons ads, "I recognize that dentists are very well positioned to screen for OSA because they are looking in the airway and mouth on all of their patients." Dentists can offer treatment with oral appliance therapy (OAT) that are similar looking to mouth guards but the OAT holds the jaw forward, opening the airway during sleep. The OAT is recognized as an effective treatment for those with mild-to-moderate OSA, according to the American Academy of Dental Sleep Medicine. The fact that so many with OSA go untreated is a genuine concern because OSA left untreated can lead to serious medical conditions such as; high blood pressure, heart attack, stroke, obesity, diabetes, increase the risk of, or worsen, heart failure, make arrhythmia's (ah-RITH-me-ahs), or irregular heartbeats, more likely and increase the chance of having work-related or driving accidents, according to the National Institutes of Health.
The main stay of OSA treatment remains continuous positive airway pressure (CPAP) which consists of a quiet machine that delivers air pressure to keep the airway open. A CPAP system has three main parts:

A mask or other device that fits over the nose or nose and mouth with straps that keep the mask in place.
A tube that connects the mask to the machine's motor.
A motor that blows air into the tube.
Some CPAP machines have other features as well, such as heated humidifiers and heated tubing. CPAP machines are small, lightweight, and fairly quiet. The noise that they make is soft and rhythmic.
Many patients do not like strapping a mask to their face and night and find it too uncomfortable to get a good night's sleep. OAT has been a great alternative in many cases. However, not all patients can be adequately treated for OSA with OAT. Inappropriately treating a patient with OAT can result in the patient continuing to develop other complicating factors such as cardiac disease, etc... Nonetheless, many patients are treated extremely successfully with OAT and that is why it is endorsed as a treatment by the American Academy of Sleep Medicine.
W. Keith Thornton DDS, one of the leaders in the area of Sleep Dentistry and developer of the Thornton Adjustable Positioner (TAP) one of the more frequently utilized OAT devices, which has demonstrated favorable results in clinical studies, along with his dental colleague William H. Gerlach D.D.S. petitioned the TSBDE to take a stance on the topic to allow guidance by the board for the proper role for dentists. They requested to have a Task Force appointed whose aim is developing protocols for dentists. Dr. Gerlach said, "We believe that dentists possess the education, training and skill to suspect and screen for OSA. We would like a Task Force of thought leaders to develop treatment parameters based on science."
The concern is that if dentists are given independent capabilities to diagnose and treat OSA, some patients may not obtain the comprehensive level of care necessary to prevent these associated medical conditions. Also, the accepted position from the AASM, Texas Medical Association, AADSM, and others is that the quarterback of the patients' care should be a properly trained physician who is boarded in sleep medicine. Since currently there are only a limited number of sleep specialists in practice, it may not be practical for all patients to obtain care from a sleep specialist therefore, an insightful generalist physician may need to be a substitute. Dr. Simmons told the TSBDE, the solution lies in raising the education of physicians so that they understand how to properly screen for OSA and to become familiar with the different treatment modalities available, such as OAT, thereby creating opportunities for the dentist and the physician to collaborate. Each doctor has a role in helping the patient, just as the physician can not fabricate a custom-fitted device the dentist should not perform outside their scope of accepted practices. Coordination-of-care between a patient's various doctors is one of the goals of the Affordable Care Act and most likely the wave of the future.
Simmons points out that even though CPAP has been the gold standard of treatment, in many complicated cases he has found that CPAP combined with a dental approach (OAT) can be superior to either approach individually. "In complicated cases there may not be a simple treatment for this devastating medical condition", states Dr. Simmons. "Unless we offer a comprehensive treatment approach, benefits may not be achieved. For example, I have patients with long histories of fibromyalgia and chronic fatigue, the root of which stems from disrupted sleep, in whom I can not control the airway during sleep until the dentists provides mandibular stabilization during sleep with an appliance, allowing me to fit the patient more securely with a full face mask that covers both the nose and mouth. Once the patient breaths normally during sleep the brain's natural restoration process improves and the patient fatigue resolves, the pain threshold improves and symptoms of chronic pain resolve. Without the assistance of my dental colleagues making an oral device, I could not achieve successful results in many of these patients. Ronald S. Prehn, DDS takes this one step further and frequently fabricates customized full face masks for Dr. Simmons' patients that are molded to the patient's nose and mouth and held in place by a dental device, eliminating the need for straps.
This collaborative effort is a prime example that can work between a physician and dentist is successful. Dr. Prehn states "It is clear that close collaboration with physicians is possible by dentists who are open to the idea and learn how to structure their decision making according to sound medical approaches. I think my collaboration with Dr. Simmons is a clear example of this model. We have joined forces closely for years and have brought sleep medicine to a new level, helping many patients with complicated conditions." They have done research on how sleep bruxism (clenching) may be the body's protective process during sleep trying to prevent the airway from collapsing and causing OSA. They have helped many patients who have developed Temporal Mandibular Joint dysfunction by taking this combination therapy approach.
So now many eyes are watching to see what the final position will be by the TSBDE and through efforts of Dentists such as Dr. Prehn and Thornton, working with physicians such as Dr. Simmons it's hopeful a sound set of rules can be implemented to encourage improved care to patients in Texas. As well these new laws should also protect patients from overly aggressive clinicians functioning outside the boundaries of their training.
If interested in an evaluation or more information, questions can be directed to Comprehensive Sleep Medicine Associates in The Woodlands and Conroe at 281-407-6222 in the Houston Medical Center 713-668-4100 and in Sugar Land 281-240-3773. Another way to find out more is to go to the web page at http://www.HoustonSleep.net where an online sleep questionnaire can be filled out for review to determine how to best undergo an evaluation and treatment of difficulties with sleep.
-END-