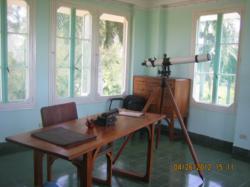 "I'm thrilled to be invited down to Cuba to see the typewriter first hand and participate in the upcoming Hemingway event this June," commented Diane Gilbert Madsen
Chicago, Illinois (PRWEB) January 31, 2013
Ernest Hemingway, one of the most prominent authors of our time, was born and raised in Oak Park, Illinois, but traveled throughout the world as he wrote his famous novels. When Hadley Richardson, his fiance and soon to be wife, presented him with a Corona #3 typewriter for his 22nd birthday, it changed his life. The typewriter was lightweight with a unique design where the carriage folded down to fit neatly into a carrying case. It was really the first portable typewriter on the market, and Hemingway fell in love with it. He brought it along when he and Hadley sailed for Europe in December 1921, he wrote a poem to it, and he carried it with him everywhere on his travels through Switzerland, France, England, Spain, Germany, and Cuba.
When author Diane Gilbert Madsen began writing her DD McGil Literati novel, Hunting for Hemingway, which is based on the lost manuscripts of Ernest Hemingway, she started searching for the Corona. "Not only were the lost works typed on the Corona, but he also used it to type his first novel and arguably one of his most famous works, The Sun Also Rises. "I began the quest, not really believing I would locate it after all these years, even though his biograher A. E. Hotchner said Hemingway didn't like to throw anything away," commented Madsen.
No one seemed to know its whereabouts. It wasn't on any inventories, and no one had photos of it. Gradually the pieces came together, and Diane located Hemingway's original Corona #3 typewriter at the Museo Ernest Hemingway, Finca Vigia, San Francisco de Paula, Cuba. With the help of the Museum Director Ada Rosa Alfonso Rosales and Assistant Director Isabel Ferreiro Garit, the typewriter was authenticated with the vintage era serial numbers that Madsen had located in her search, and it is currently on display in the Tower Room of the Museum where Hemingway spent many hours writing. Previously the typewriter had been in storage in the Museum warehouse.
Diane enlisted the help of Scott Schwar, Board Member, volunteer Chairman, and past Executive Director of the Ernest Hemingway Society of Oak Park, in making the successful connections with the Museo in Cuba. He is currently organizing a trip to Cuba this June for the International Colloquium on Ernest Hemingway, at which Diane has been invited to speak. The Tower and the Corona #3 will be included as part of the upcoming visit. "I am always heartened by how scholars and friends of Ernest Hemingway work together - in this case scholars and friends in Cuba and the US - to elucidate Hemingway's life and work," Scott noted, adding, "Now if only that portable Corona had a hard drive to reproduce the valise of Hemingway stories infamously lost on that Paris train."
John W. Berry, current Chairman of the Ernest Hemingway Foundation of Oak Park, commented, "The Ernest Hemingway Foundation of Oak Park is very pleased to learn that the Corona #3 typewriter has resurfaced at the Finca Vigia and is now displayed in the tower room. We'll look forward to seeing it there on our next visit. Now, about that valise filled with Hemingway's manuscripts that disappeared in Paris in December 1922... "
"Hemingway and his Corona #3 both led a remarkable life," Madsen noted. "That this typewriter is still in his home in Cuba is significant. Hemingway kept that typewriter his whole life – longer than any wife. In the end, that Corona, as Freud said, was more than a typewriter to Hemingway."
Diane Gilbert Madsen's book, "Hunting for Hemingway"
(http://www.amazon.com/Hunting-HemingwayMcGilLiteratiMystery/dp/0738719536/ref=sr_1_1?s=books&ie=UTF8&qid=1357586322&sr=1-1&keywords=hunting+for+hemingway) ponders what would happen if Ernest Hemingway's long lost manuscripts were found. In December 1922, when Hemingway's wife was traveling separately to meet him, she left a valise containing all of Hemingway's earliest unpublished writings along with their carbon copies at the Paris train station. These manuscripts have not surfaced in over 90 years.
Lead character DD McGil, a thirty-something English professor turned freelance insurance investigator, is thrust into the middle of a complex plan when Professor David Barnes, an old flame, shows up in her life claiming that he has found the lost Hemingway manuscripts. In the morning when DD McGil goes to visit David she finds him dead in his bed. In shock by her discovery, DD does not notice the murderer hiding in the room and is knocked in the head. DD is found at the scene of the crime when the police arrive. Now the prime suspect in the murder of David Barnes, DD McGil must protect herself. Coincidentally, DD McGil is hired by American Insurance Company to authenticate these same manuscripts. Who killed David Barnes? Was it the Insurance company, his University peers, or was it all just a hoax? For more information about Diane Gilbert Madsen and her exciting DD McGil Literati series, visit her website at http://www.dianegilbertmadsen.com