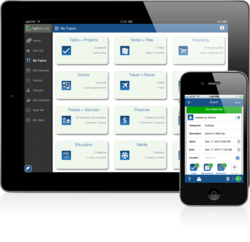 LifeTopix users have demanded additional choices for reliable sync, and we have been working on options beyond iCloud.
- Adi Mishra, CEO
Austin, Texas (PRWEB) January 31, 2013
LightArrow, Inc. announces that in the next major version of LifeTopix, targeted for availability in the first quarter of 2013, they are adding Dropbox and Google Drive support for sync of LifeTopix app data and files between devices. LifeTopix users currently utilize the Dropbox backup and restore method as a reliable way to have the same LifeTopix data on their devices through a manual process. The enhanced support for Dropbox and Google Drive will make the sync seamless between devices seamless and will be introduced in the 6.0 update. LifeTopix currently supports a technology preview of sync using iCloud.
"LifeTopix users have demanded additional choices for reliable sync, and we have been working on options beyond iCloud," said Adi Mishra, CEO of LightArrow. "Dropbox and Google Drive are natural choices because they are best of breed, and we are already halfway there with our current support for both in our app."
Along with the enhanced sync support, the 6.0 update will have other functionality and usability updates. LifeTopix 6.0 will include major freehand drawing enhancements and several dashboard and performance improvements. GTD® support will also be enhanced with a revamped Quick Inbox view.
Pric­ing and Availability
Life­Topix 6.0 will be available later this quarter as a free update to existing LifeTopix users. LifeTopix 5.2 is avail­able currently from the Apple App Store. For new users, Life­Topix 5.2 is avail­able for a lim­ited time at a spe­cial price of 99 cents. As a uni­ver­sal app, a sin­gle pur­chase enti­tles the buyer to use this top pro­duc­tiv­ity app on their iPhone, iPad, and iPod touch.
About LightAr­row
Head­quar­tered in Austin, Texas, LightAr­row, Inc. (http://www.lightarrow.com) was founded in 2009 by a team of vision­ar­ies who have ded­i­cated their pro­fes­sional careers to the chal­lenge of lever­ag­ing state-of-the-art infor­ma­tion tech­nol­ogy to solve prob­lems that mat­ter to peo­ple. Their mis­sion is to build intel­li­gent, world-class soft­ware prod­ucts that dra­mat­i­cally improve their cus­tomers' every­day lives. The com­pany has exten­sive expe­ri­ence deliv­er­ing qual­ity solu­tions to some of the most sophis­ti­cated cus­tomers in the world and are very proud of their suc­cess­ful track record.
Copy­right © 2013 LightAr­row, Inc. All Rights Reserved. Apple, the Apple logo, iPhone, iPod and iPad are reg­is­tered trade­marks of Apple Inc. in the U.S. and/or other coun­tries. GTD® and Getting Things Done® are registered trademarks of David Allen & Co. All other trade­marks are the prop­erty of their respec­tive owners.