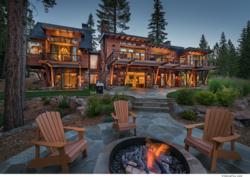 We are pleased to enter 2013 with almost 300 homes in the design, build or completion stage and a tremendous amount of activity with families considering a purchase within the community
(PRWEB) January 31, 2013
Martis Camp, a private golf and ski community in North Lake Tahoe, announced a total of 117 property sales in 2012 totaling $118 million, continuing to place the community at the forefront of second-home developments in the U.S. The most recent activity represents a 40% increase from 2011 in terms of closed sales transactions, and brings Martis Camp to the next stage of its sales cycle with more than two-thirds of the master-planned community's 663 home sites sold within a short seven-year sales period.
Since launching sales in 2006, Martis Camp has sold more than 441 properties for $355 million in revenue. One hundred homes are completed, with 90 homes under construction and 92 in the active design process. The Camp's high-level of activity and continued sales performance is a testament to the strength of the project as well as to the appeal of the destination, with Truckee, CA recently named one of "America's Best Ski Towns" by Travel & Leisure, and Lake Tahoe heralded as the "Best Lake in America" according to a 2012 USA Today reader's poll.
"We are pleased to enter 2013 with almost 300 homes in the design, build or completion stage and a tremendous amount of activity with families considering a purchase within the community," says Martis Camp Sales Director Brian Hull. "It has been our goal to capture and perfect the four-season appeal of Lake Tahoe, and the recent activity not only showcases a sustainable and successful community, but also validates our core belief that Martis Camp is the definitive Mountain retreat. We will continue to focus on creating new offerings and priceless experiences that bring families together."
Martis Camp continues to set the industry standard in planned residential amenities, most recently unveiling the new Lookout Lodge slope-side mountain clubhouse for the 2012/2013 ski season. Lookout Lodge offers an impressive array of amenities for Club snow-sport enthusiasts: direct ski-in/ski-out access to 1,722 vertical feet of downhill terrain as well as 3,000 acres at Northstar California via the Martis Camp Express chairlift, indoor and outdoor dining with firepits, a ready room, ski valet, ski, boot and board storage and shuttle service to/from Club member's homes. Martis Camp coordinates Club members access to ski rental services and a ski concierge providing equipment as well as arranging lessons. Winter adventures for non-skiers include a sloped and groomed Sled Hill as well as approximately 12 miles of trails for snowshoeing and cross-country skiing.
A full Club calendar of activities benefits the whole family, from movie nights at the Family Barn, to après ski mixers and winter wine dinners. Gourmands can explore a new Epicurean series at the Martis Camp Folk School, and the "Little Folks" program offers children a variety of arts and crafts classes tailored just for their small hands, from cooking to knitting. Culminate a long day on the slopes with "Bluebird and Après Ski Music" at Lookout Lodge, which showcases the sounds of some of Tahoe's best musicians, from jazz to folk to bluegrass.
For more information on Martis Camp please visit http://www.MartisCamp.com or call 1-800-721-9005.
ABOUT MARTIS CAMP:
Martis Camp is a private gated community located between Truckee and North Lake Tahoe in the Martis Valley. Situated on 2,177 acres with sweeping topography, the land itself embraces the true essence of High Sierra living. A year round community, Martis Camp Club offers private ski access via the Lookout Lodge and Martis Camp Express Lift to Northstar California™ in winter and a Tom Fazio 18 hole golf course in the summer. Martis Camp Club members enjoy a vast array of amenities including the Family Barn complex with swimming, a bowling alley, art loft, movie theater, indoor basketball court, soda fountain and outdoor performance amphitheater; an 18-hole putting park; Sporting fields and pavilions; Camp Lodge with dining venues, club spa and fitness center and vitality pools; Folk School; Lost Library; 26 miles of private trails for hiking, snowshoeing and cross-country skiing and a private mountain clubhouse at the base of Lookout Mountain. http://www.martiscamp.com