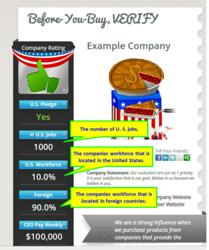 This limp economy is making life-altering changes to our careers.
Sarasota, FL (PRWEB) January 31, 2013
The Commerce Department reported yesterday the nation's gross domestic product shrank for the first time in 3 1/2 years during the fourth quarter, declining at an annual rate of 0.1% between October and December. Earlier in the week, the Conference Board said its gauge of consumer confidence dropped to 58.6 in January, the lowest level since November 2011, which erased all of the gains made through 2012. This disturbing news has college students worried about their future job prospects and are taking action at SaveOurWorkforce.
"This limp economy is making life-altering changes to our careers," says Ross Mazzolini, a student at Texas Tech University and a member of the organization SaveOurWorkforce. A recent study this week by Richard Vedder, Christopher Denhart, and Jonathan Robe finds that nearly half of recent college graduates are underemployed, holding jobs that require less than a four-year college degree. The unemployment rate for 18-29 year olds is 11.5 percent, according to Generation Opportunity, a non-profit, non-partisan organization reporting on issues facing young Americans. A Pew's Social & Demographic Trends survey in December spells out just how much 18- to 34-year-olds had to adjust. Almost half have taken a job just to pay the bills; more than a third went back to school because they couldn't find employment; and almost a quarter have worked without pay to get experience.
These figures call attention to the difficulty that millions of young people have in finding jobs and starting their career. "For several months students across the country have been studying the unemployment problem," explains Mario Palma, attending El Camino College. He goes on to say "the root cause is large companies making record profits have no incentive to keep jobs in America because outsourcing - sending jobs, goods and services outside of the United States - is invisible to the consumer."
So what is the solution these college students are proposing to reduce unemployment? "This invisible outsourcing is the leading cause of the high levels of unemployment and can be solved by making it visible using newly available social networking tools with SaveOurWorkforce" explains Nestor Crespin, a student at Loyola Marymount University. The organization's goal is to gives large companies incentive to keep jobs in America by providing a tool for consumers to easily monitor, encourage, and reward businesses that provide jobs to American families. The database gives each company a rating by tracking the number of jobs a company offers in the United States and foreign countries to determine a U.S. workforce percentage. Their free website tool "Before-You-Buy, Verify" shows the number of U.S. jobs a company provides, so consumers can easily purchase products from businesses that are supporting the economy.
"Using this tool strongly encourages companies to keep jobs here in America", says Brian LaBarbera, attending Long Beach State University.
"Together we can rebuild the U.S. workforce and create a brighter future for us all," explained Ross. "All we need is your membership to show companies we care about how many U.S. jobs they provide." People who are interested in becoming members can sign up at http://SaveOurWorkforce.org.
About SaveOurWorkforce
 
SaveOurWorkforce is a nonprofit organization with the mission to save and rebuild the American workforce. Founded in 2012 by high school and college students, the organization encourages the involvement of students, individuals, and companies throughout the country at their website http://SaveOurWorkforce.org. Students (13 years and older) are asked to join and track the company workforce sizes in their area. Individuals (the 99%) are asked to become members and use the free tool "Before-You-Buy, Verify" which empowers consumers to direct their purchases to companies that support the U.S. Workforce the most. Companies are also asked to become members and partner with the youth to help keep jobs in America at http://SaveOurWorkforce.org.