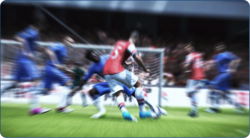 The distinguishing factor explaining the capacities of professional athletes is their ability to actually learn how to process complex dynamic visual scenes.
(PRWEB) January 31, 2013
World-leading neuroscientist Dr.Faubert has worked with top tier teams in the NHL, EPL, and French Rugby League using a perceptual–cognitive training system called NeuroTracker to isolate, train and measure the visual learning capacities of elite athletes. The findings revealed that sports stars not only have superior perceptual-cognitive abilities, but that their brains are remarkably better at responding to conditioning. Nature has published the study paper in Scientific Reports that clearly illustrates the link between top athletes and superior perceptual-cognitive ability.
The results from 102 professionals were compared with 173 high level amateurs in NCAA team sports, and 33 non-athlete university students. The data revealed that amateur athletes improved their visual skills at accelerated rates when compared to the students, while the pro-athletes improved dramatically faster than the amateurs. Dr.Faubert commented "We were not surprised to see athlete's initial scores correlate with levels of sporting ability, but we were amazed to discover learning capacity to be such a pivotal marker. It's fascinating data."
Even though the results showed elite athletes to be superior at the visual task from the outset, they still displayed much steeper learning curves. Sports expertise and sports specific cognitive abilities have been strongly linked by many researchers, but pure cognitive tests haven't previously differentiated athletes from non-athletes. Dr.Faubert explained, "The research demonstrates that a distinguishing factor explaining the capacities of professional athletes is their ability to actually learn how to process complex dynamic visual scenes".
The NeuroTracker test was developed by Dr.Faubert's Lab and CogniSens Athletics Inc. It challenges people to track multiple targets alongside distractors moving rapidly around a large 3D virtual environment. Void of contextual biases or motor influences, it provides a strict measure of human cognitive performance for some of the most demanding mental skills used out on the sports field. "Elite athletes leverage huge advantages from their mental prowess on the field. Dr.Faubert is in a great position to have a pure science-based assessment that also trains sports performance," commented Dr. Zaichkowsky, former Director of Sports Science for the Vancouver Canucks, "…it's really the only way to obtain such significant data with world-class athletes across these major team-sports."
The paper cites studies which have found neuroanatomical changes in experienced athletes' brains that increase neural efficiency for sports-related tasks. Dr.Faubert hypothesizes that the NeuroTracker data may be revealing how intensive conditioning of the brain increases long-term responsiveness to the conditioning process itself. This would imply that focused cognitive training could have far greater gains for improving long term performance than previously recognized.
NeuroTracker
NeuroTracker (3D-MOT) is a scientific technique for measuring and training perceptual-cognitive abilities, it isolates the skills required to process complex dynamic visual scenes without contextual biases. It was developed at the Visual Psychophysics and Perception Laboratory, University of Montreal. It is licensed and commercialized by CogniSens Athletics Inc. For more information please visit:
http://www.neurotracker.net
http://www.cognisens.com
The study paper is available at Nature Scientific Reports under Creative Commons licence.
Faubert, J. Professional athletes have extraordinary skills for rapidly learning complex and neutral dynamic visual scenes. Sci. Rep. 3, 1154; DOI:10.1038/srep01154 (2013).
CogniSens Athletics
CogniSens Inc. is a science-based company that measures, manages and improves neurological activity. In collaboration with the world-leading visual psychophysics and perception laboratory at the University of Montreal, CogniSens has developed patented technologies that enhance the mental performance of athletes and servicemen.