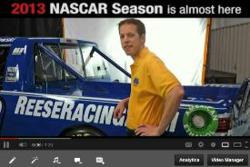 Brad truly cares about representing our business just as he represents himself on the track and as a team owner in his own business.
Solon, Ohio (PRWEB) January 31, 2013
Cequent Consumer Products- long time industry leaders for automotive aftermarket products and new leaders in the cleaning tools industry, will use reigning NASCAR Sprint Cup Champion, Brad Keselowski, to help launch new products and a new brand for cleaning tools - both areas of growth for Cequent Consumer this year. Nine new videos were shot at the Brad Keselowski Race Shop in Mooresville, NC last week featuring Keselowski. The videos include new products Carbon Forged and Tow and Go Hitch Step from Reese Towpower, the leading retail brand for aftermarket towing products. Another highlight was the video for Harper cleaning tools, a brand made in the USA since 1900 that was acquired by Cequent Consumer in December 2012. Harper, a second cleaning tool line Cequent purchased last year gives Cequent Consumer 250 years combined experience in the cleaning tool industry and will expand product offerings and the customer base.
Cequent Consumer Products understands the power of video and has used this medium to promote its NASCAR team sponsorships and products for the past two years. The Keselowski videos will be released throughout the next few months and will be posted to http://www.ReeseRacing.com the race section of Cequent Consumer Products website. The videos will also be used in marketing and promotional campaigns during race season.
"In two years working with Brad, it's amazing to see him evolve as a young, successful team owner," said Shannon Ketvertes, Cequent Consumer Products Communications Manager and video director for the Keselowski shoot for Cequent Consumer. "Brad's professionalism and drive for perfection will show in our new videos. If Brad didn't like a take on a video, many times he would say, I can do better, I know I can, let's do another take. Brad truly cares about representing our business just as he represents himself on the track and as a team owner in his own business," Ketvertes said.
Keselowski has two trucks that will compete in the 2013 NASCAR Camping World Truck Series. The #19 Ford is sponsored by Cequent Consumer and Cequent Performance Products, both owned by TriMas and a new sponsor, Mellon 1. Keselowski's #29 will be sponsored by Cooper Standard. Cequent Consumer has been a sponsor of Keselowski's NASCAR Camping World Truck series team since last year and has seven primary sponsored races this season. Sponsored races for the #19 Truck will be announced as soon as the schedule is finalized. Drivers Brad Keselowski, Joey Logano and Ross Chastain were announced last week.
Cequent Consumer Products began sponsoring the sport of NASCAR in 2011 and is in the middle of a three year contract to sponsor BKR. Visit http://www.ReeseRacing.com for exclusive updates on this sponsorship and for details on how to win prizes all season long.
ABOUT CEQUENT CONSUMER PRODUCTS:
Cequent Consumer Products, Inc. located in Solon, Ohio, is the industry's leading designer, manufacturer and marketer of innovative consumer goods and automotive aftermarket products. For more than 85 years, Cequent Consumer Products has produced some of the most dependable products in the market today including superior-quality towing and hitch systems, trailer components and accessories, wiring, lighting and brake systems, cargo securing, cargo carrying, rack systems, as well as household and industrial brooms and brushes. Our established brands are sold through leading automotive retailers nationwide. Our brands are leaders in the industry and include: Reese Towpower, Reese Carry Power, Reese PowerSports, Highland, Aqua-Clear, Laitner, Harper, Rola, Fulton and Bulldog. Cequent Consumer Products is part of the Cequent Americas business unit of TriMas Corporation. Visit http://www.CequentConsumerProducts.com.