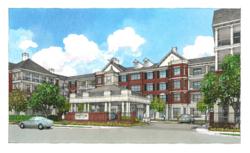 Dallas, Texas (PRWEB) January 31, 2013
The Tradition-Lovers Lane, a high-end rental senior living community, is due to break ground on Thursday, February 7. Situated at 5850 Lovers Lane at Matilda, the 7.5-acre community will include a 202-unit independent living building at the corner of Matilda and Milton designed by Houston architects Meeks + Partners, and a 109-unit assisted living/memory care property next door fronting Milton designed by Dallas architects D2 Architecture, LLC. The announcement was made by Jonathan Perlman, founder and CEO of Tradition Senior Living, LP, which is developing, marketing and managing the project.
"We feel our Lovers Lane location is outstanding," said Perlman. "It's convenient to the Park Cities, Lakewood, Preston Hollow, Lake Highlands and East Dallas – and is next door to Central Market." Perlman anticipates the community will open in June, 2014. "We thank our lenders and partners who agree that our plans for The Tradition-Lovers Lane will be an asset to the city of Dallas."
The Tradition-Lovers Lane will be the second community developed by TSL; built by TSL's construction division, Four Suns Construction, LLC; and managed by Tradition Management, LLC. The Tradition-Prestonwood, a 220-unit independent living property located at 15250 Prestonwood Blvd. between Belt Line and Arapaho, opened the summer of 2010 and is over 90% occupied.
The Tradition-Lovers Lane will boast the same hallmarks of the first community: resort-style living with ultra-inclusive services and amenities; beautiful, light-filled apartments and common areas; lush landscaping surrounding four courtyards; an underground parking garage; wellness programs and state-of-the-art fitness areas, including an indoor pool, a weight room, a Pilates and group exercise room for classes taught by our in-house fitness director; restaurant-style dining in multiple venues; daily activities and transportation.
"D2 is proud to be associated with Tradition Senior Living, who shares our commitment to create environments where seniors can thrive," said David Dillard, D2 Architecture. "The Tradition-Lovers Lane will feature beautiful living spaces equipped to meet the needs of active and social seniors coupled with the most up-to-date assisted living and memory care available," he continued.
"We are pleased to work with TSL on The Tradition-Lovers Lane senior living community," said Don Meeks, Meeks + Partners. "Our design team took cues from the surrounding communities resulting in richly detailed, classically styled exterior elevations, incorporating a material palette including smooth finish stone, brick and stucco. Below-grade parking will be utilized in order to minimize the impact on the pedestrian environment, allowing for a generous landscaping buffer at the building's edge. The exquisitely detailed interior will offer 202 units and over 50,000 square feet of amenity space, providing a true resort-style experience," continued Meeks in describing the independent living building.
A marketing center for the new community is expected to open April 1 at the southeast corner of Lovers Lane and Matilda. For more information about The Tradition-Lovers Lane, see traditionseniorliving.com.
BACKGROUND
Tradition Senior Living, LP
Tradition Senior Living is a Texas limited partnership engaged solely in the development, construction and management of a growing number of Tradition senior living developments. Management and construction are administered in-house with personnel who have corporate-level experience in the senior living industry.
Founder and CEO Jonathan Perlman has worked in the senior living industry for the past 15 years and has experience in all phases of the business. Prior to founding Tradition Senior Living, LP, Perlman was involved in the development, finance, construction, marketing and management of nine senior housing projects totaling more than 1,800 units.
D2 Architecture, David A. Dillard, FAIA
D2 Architecture, headquartered in Dallas, Texas, focuses exclusively on senior living projects and designs nationally recognized communities across the United States. The organization is led by President David Dillard, FAIA, who celebrates two decades of specialization in senior housing and is a regular speaker at Senior Living conferences around the country. For more information about D2, visit D2-architecture.com or follow us @D2Architecture.
Meeks + Partners
Formed in 1974, Meeks + Partners architects specializes in award-winning multifamily, luxury and urban mixed-use projects as well as student housing, independent senior housing, mid- and high-rise buildings and urban land planning. The firm has planned and designed more than 400,000 residential and commercial units in the U.S., Europe and China, with active projects in ten states and China. For more information, visit http://www.meekspartners.com.