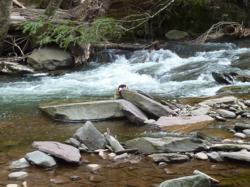 On a friend's recommendation...[I] signed up. I felt tremendous physical, emotional and spiritual healing from Eliot and his team. … I'm still feeling the blessings weeks later. Wish every human being could experience Healing Camp.
Margaretville, NY (PRWEB) January 17, 2013
People yearn to be free of illness. And people long to feel connected… to spirit, to each other and to the natural world, yet how often do people give themselves time to nurture that heartfelt yearning? Modern life has become so busy and stressful! Such a pace takes a painful toll, which many try to remedy with healthy food, therapy, yoga classes or meditation. All these approaches help, yet still the question is there -- could there be more?
Sometimes misfortune -- an accident, an illness, the death of a loved one-- opens up new directions, brings on new questions:
Could the potency and mystery of ancient healing tradition provide medicine for the illnesses and alienation of modern culture?
Healing Camp is composed of five days of Huichol Shamanic Healing at the sacred ground of the Blue Deer Center. Through Eliot Cowan's authentic training and apprenticeship with Huichol Indian shaman don Guadalupe Gonzalez Rios, participants have the opportunity to discover that the medicine of the old cultures runs deep and exerts a powerful effect.
Eliot Cowan, a fully initiated Tsaurirrikame (Huichol shaman), has lead over 50 healing camps in the past two decades. Over the years he has gathered extensive experience working with the full spectrum of life events from birth to death.
Registration in Healing Camp includes daily private sessions with Eliot, time for contemplation and reflection, gathering in community around the warmth of the fire, and opportunities to connect with the natural world under the guidance of Justin Starting and Marakame Scott Sheerin.
The Camp provides a rare opportunity to experience a temporary village created for the express purpose of bringing Huichol healing to you, because living even briefly within a healthy community contributes to well-being.
The sacred land of the Center will support the Camp. Music and celebration will light up the days and nights, while the Center's wonderful chef and staff ensure the right conditions for healing.
Blue Deer Center provides an important setting for teachings and practices that promote balanced relationship with the natural world. They particularly welcome ancestral approaches to healing, ritual, and retreat. The Center's origins are rooted in the Huichol shamanic tradition and living connection to the universal and sacred spirit of fire.